Crossing Chianti to Siena One day bike tour Tuscany from Florence to Siena featuring
Chianti colors, Medieval Villages,
wine tour&tasting.

Small group bike tour, from 2 to 8 people.
Duration
One day tour from Florence to Siena
Your day schedule
Pick up: 8.45 a.m.
Drop off: 5.00 p.m.
Biking Experience
From easy to advanced
Distance traveled by Cycling
10 to 18 miles (approx 1,5 to 2,5 hours)

Our Crossing Chianti to Siena, the one-day bike tour Tuscany from Florence to Siena, starts with a morning pick-up by our guide and air-conditioned support van.
You will be heading out of the city towards the open spaces of the Chianti landscape wherein only minutes you are far away from the busy historic center. Immersed in the colors, fragrances and natural beauty of Tuscany, your day of adventure begins.
We whisk you off in the Chianti Classico Region, heading first to the picture-perfect small town of San Donato in Poggio.
Enjoy wander the pretty streets, get a cappuccino at the local coffee bar and take a few photos.
Then hop again into the support van and venture deeper into the Chianti Classico territory.
Our next stop is Castellina in Chianti. Explore the town square, the arched passages from the medieval times, hidden boutiques, art galleries, and wine shops before being fitted for you quality touring bike and safety equipment. The pedaling portion of your one day biking adventure
The Crossing Chianti to Siena one-day bike tour Tuscany starts from here!
After fitting you on your bicycles let's give the start, ANDIAMOOO!
Breathtaking view of the hills covered in rows of vineyards, olive groves, cypress trees and when in season, poppies and wildflowers will mark your quiet and relaxed pace until the next destinations.
Coasting along a gentle, scenic road, we cycle thru Fonterutoli, a small antique hamlet owned by the same noble family since 1435 and more than 23 generations! We continue to pedal, passing vineyards and olive groves till we come to Lornano, the home to one of Siena's bishops in the 14 century – a true piece of history!
We will stop here to visit the wine cellar in the villa, follow your host as they explain the various steps to producing great wine and then savor their extra virgin olive oil as well as their wine production in a guided tasting.
After this wonderfully satisfying tasting experience, we venture forth for the last leg of the biking tour through the famous Siena hills of Chianti. There are several photo opportunities along the way where you can stop, admire and capture the essence of Tuscany, its traditions, history, and charm : Siena.
Our final destination of this glorious one-day bike tour Tuscany is now in our sites: 
In order to avoid the busy city traffic, we stop for one last panoramic view of the Chianti scenery, load up the bikes and you before heading towards medieval walls of this UNESCO recognized World Heritage site.
With its narrow streets, steep alleys, a stunning Gothic cathedral, and a bounty of early Renaissance art, Siena is often described as Italy's best-preserved medieval city. We drop you off to explore the city and provide you with a city map to explore on your own, or make plans for a guided tour to see everything! And we give you a few insider tips on places for a great lunch & a delicious Italian gelato!
After such a full day of excitement and emotions, our van is ready to provide you with a relaxing afternoon drive back to Florence.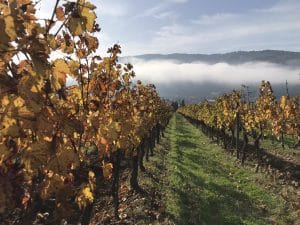 Our Florence to Siena one-day tour , the Crossing Chianti to Siena biking adventure  from Florence guides you through some of the most stunning scenery, vineyards and panoramic views that Tuscany has to offer while pedaling through back roads and small towns before ending at its final destination: Siena.
The Crossing Chianti to Siena bike tour features:
Leisurely panoramic biking among vineyards, hills & small towns
A sommelier-guided wine & olive oil experience with option to buy&ship back home directly from the farm.
Free time for a walk in San Donato in Poggio
Free time in Castellina in Chianti for a brief tour of the highlights
VISIT SIENA: Free time for sightseeing & lunch on your own
Estimated biking time: 1.5 to 2.5 hours
For those who are concerned about not being in shape, or who haven't saddled up on two wheels for a while we have an alternative so that they don't have to sit on the sidelines for this beautiful experience.
Ask us about our high-end Electric-bikes!
Non cycling tour-mates are welcome in our small groups : contact us to learn more.
Avid and experienced bikers can opt to start the biking portion of the tour from our first stop. If you are looking for the challenge, we will introduce you to some of the more demanding Chianti hills.

Elena & Piero say the Crossing Chianti to Siena bike tour is perfect for those who:
Enjoy the captivating vineyards, hills of grain, fields of poppies (in season) & hidden tower-top towns
Want to see Siena on their own and visit the small Tuscan towns that dot the hillsides
Are eager to learn about wine making while tasting best selection Chianti Classico wines
Are travelling with kids ( min.age 12 y.o.) we can add a gelato break
Ask about our flexible itinerary
OCCASIONAL RIDER

I BIKE OCCASIONALLY

Distance traveled: about 10 miles/ 17 Kms.
Starting point:  Castellina in Chianti.
WEEKEND RIDER

I RIDE REGULARLY ON WEEKENDS

Distance traveled: about 13 miles/ 21 Kms.
Starting point:  Castellina in Chianti.
ACTIVE RIDER

I RIDE REGULARLY DURING THE WEEK AND FOR LONGER RIDES ON WEEKENDS

Distance traveled: about 18 miles/ 29 Kms.
Starting point:  San Donato in Poggio.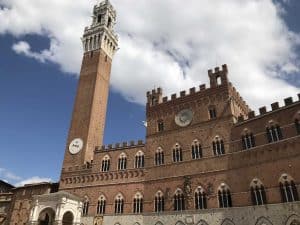 Your pick-up and drop-off in Florence.
Piero-Elena leading your day.
Full guidance and air-conditioned van support.

High-quality light-frame 27-speed fitness bicycle, helmet, water bottle.

Does someone in your family/group of friends feel not 100% in shape yet would love to join the party? 

Ask us about our easy-to-use electric bikes, available on demand!

Full Wine Tour&Tasting at local winery in Chianti Classico

(tasting fee incl.)

Snacks & treats for your ride.
Non cycling tour-mates are welcome in our small groups : contact us to learn more.

Min.Age for cycling : 12 y.o.-
We will be glad to pick you up even if you are staying outside Florence.
Please Contact Us for further details and personalized arrangements or Book Now your favorite.
Great ride, flexible itinerary, super friendly capable guides
We had a great ride through Tuscany in autumn 2013. It was rainy in Florence, so Piero put the bikes on the rack and we hopped in the van and drove for half an hour to the south where it was dry. From there we had a great ride to Siena…
Beautiful way to see the Chianti countryside
We went on a picturesque bike tour in the fall and really fell in love with biking! Our tour was for beginners seeing as we had never done anything like that before and it turned out to be perfect…
Super Tuscan tour!
My friend and I booked the Crossing Chianti to Sienna tour a few weeks before our trip to Italy. We received an email response right away with answers to questions we had about the tour.
Relaxing break from city sight seeing
I would highly recommend this experience. You not only get to see the beautiful countryside, but you really get a real taste of the Chianti region of Tuscany.