Our company, fully licensed&registered Tour Operator in Florence, was founded by passionate 100% florentine professionals, committed to spreading their love of cycling, great food, wine and tuscany all over the world.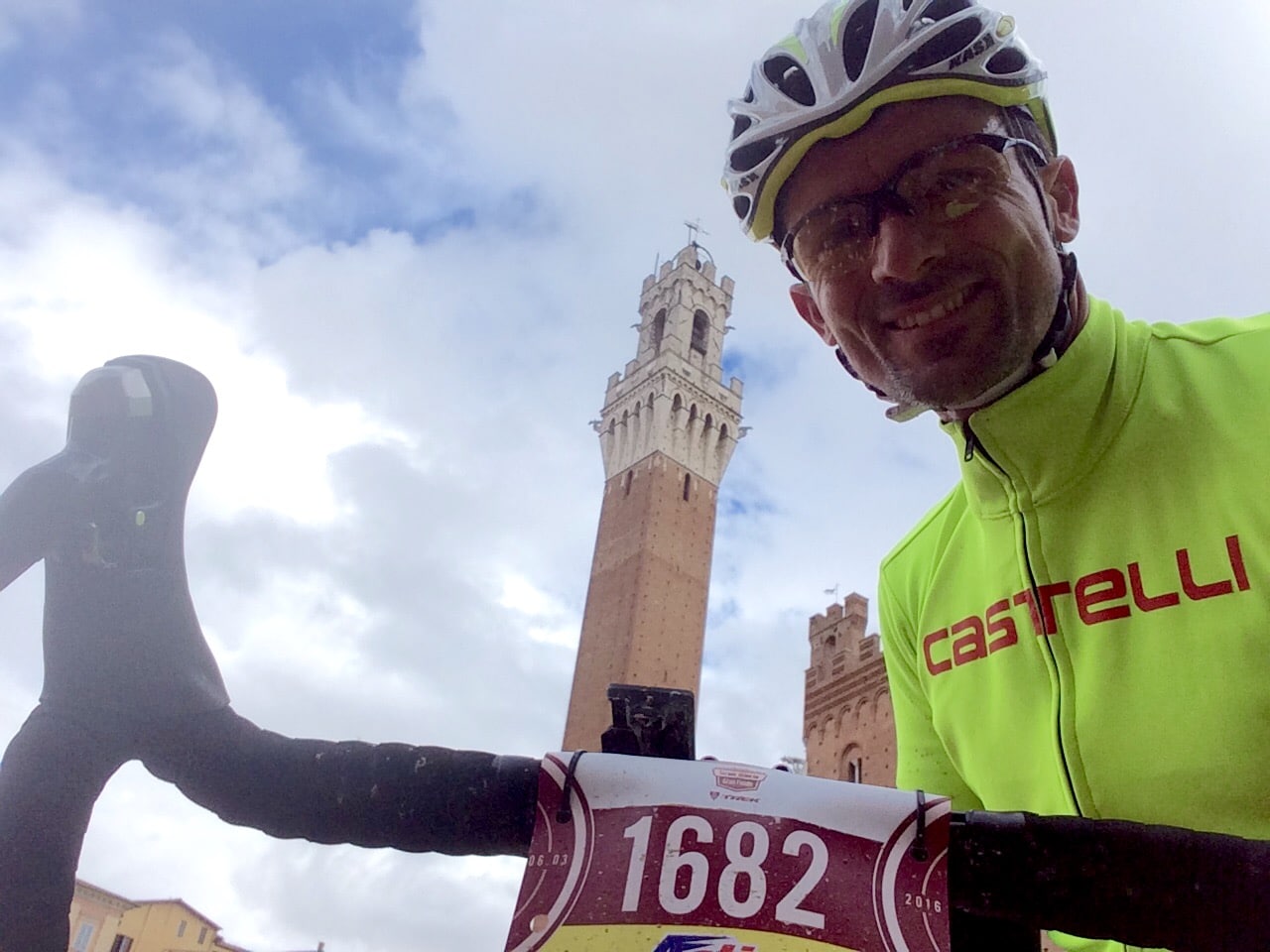 Piero Didona
The boss!
"As a native Florentine, I am the founder and owner. Since I was a child, I've always had a passion for outdoor activities and all kinds of sports. I'm a MTB and road bike enthusiast and was the founder and owner of the largest bike shop in Florence for 20 years. My team and I are keen on sharing our affinity for cycling, traditional and healthy local food and culture with newbies, week-end riders as well as avid cyclists. We strive to create intimate private or semi-private tours focusing on YOU. We want you to have a fresh and different view of Tuscany, for deeply living your Italian experience. We work hard everyday for exceeding your expectations, aiming to give you the experience of a lifetime, on two wheels!" Piero, detail oriented and attentive to bike safety, is the calming element of the team, offering reassurance every step of the way. He will encourage you to do your best at whatever speed you need and, when you're done and can't do any more, he will just as easily pack up your bike and converse with you while trailing the group in the support van.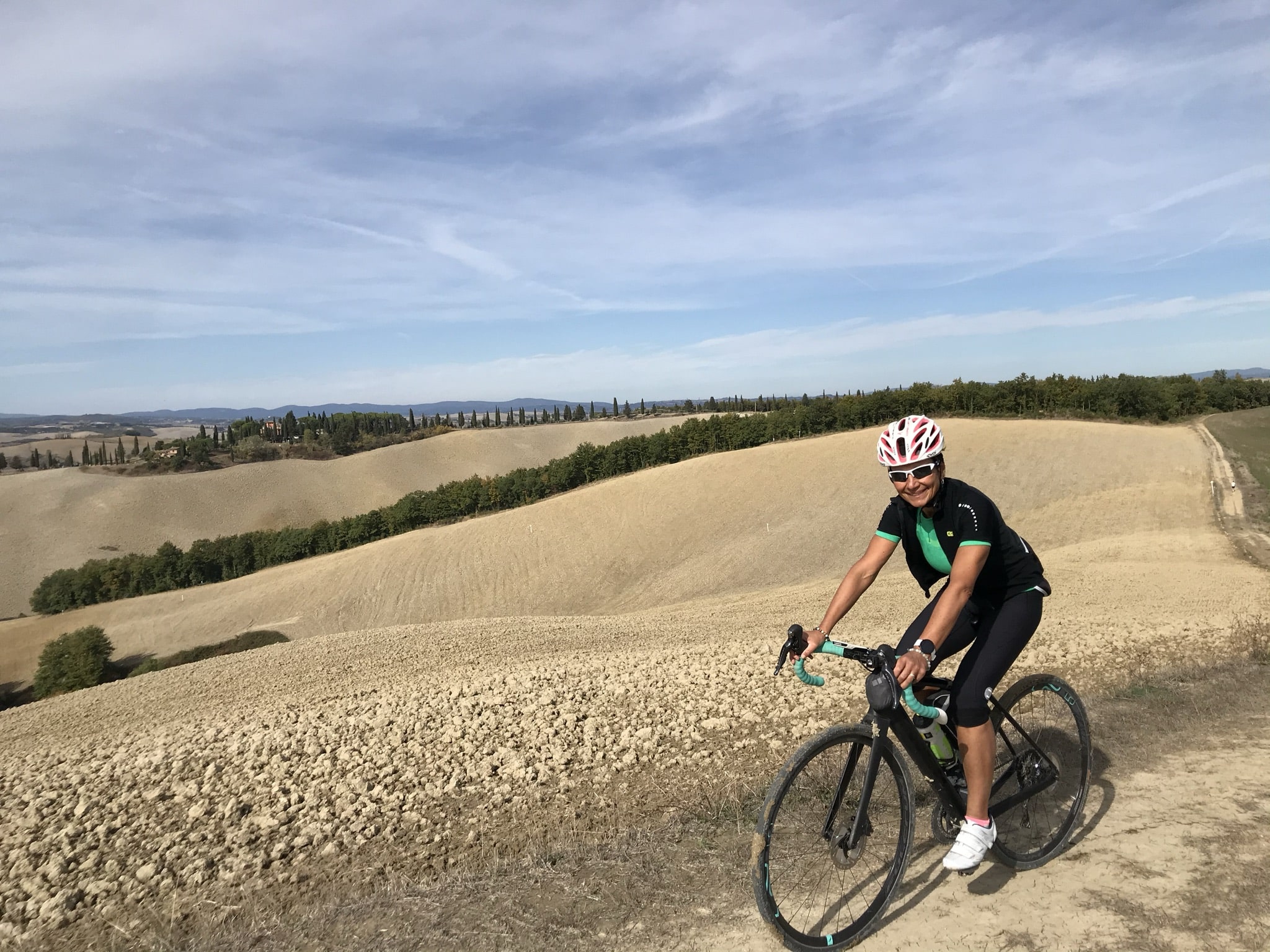 Elena Boscherini
Co-Owner&Tour Leader
" I was born in Verona, where I lived and worked until 2010 as a key account manager, sales coordinator and area manager for 25 years. I have been practicing sports since a young age and love travelling around the world for MTB/Road bike competitive events or just for fun! I moved to Florence in 2011 for love – is there any better reason? – and started to pursue my passion for cycling. After working as a tour leader for other Companies, I joined exclusively Bike Florence & Tuscany beginning 2014. If you happen to still find me on net being part of other tour leader teams … it's a typo or maybe just melancholic forgetfulness of the owner of that Company!" Elena is a powerhouse, and her energy and zeal for cycling bubbles over and touches everyone in the group. She has a "can-do" attitude which infuses even the most resistant participant to become a team player.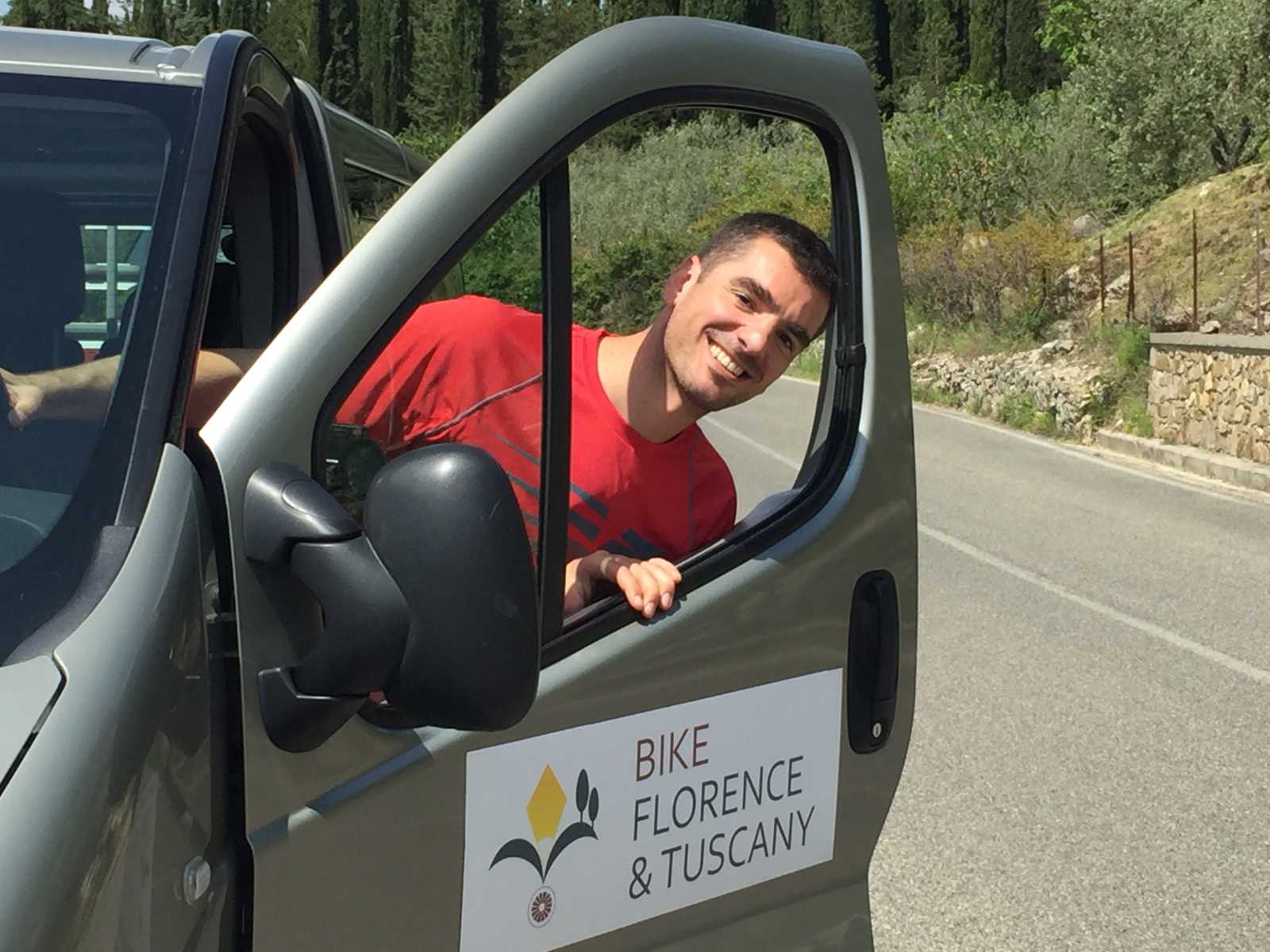 Simone Mignolli
Tour Leader
''I was born and raised in the hills surrounding Florence in a traditional Italian family.
My granparents, being farmers, passed on their love for the countryside and all it's fruits, above all wine and extravergin olive oil. My main passion, cycling, got it's start when my grandmother, Mary, gave me my first bike on my 4th birthday and taught me how to ride it.''
In the last twenty years, Simone has been cycling all over Tuscany, Italy and Europe. He considers bike the best way to explore new places because it allows you to go faster than walking but slower than a car, giving you a very special perspective on the surrounding landscape.
Simone, as a true Florentine, is deeply proud of his home land and looks forward to sharing with you his knowledge and passion about Tuscany.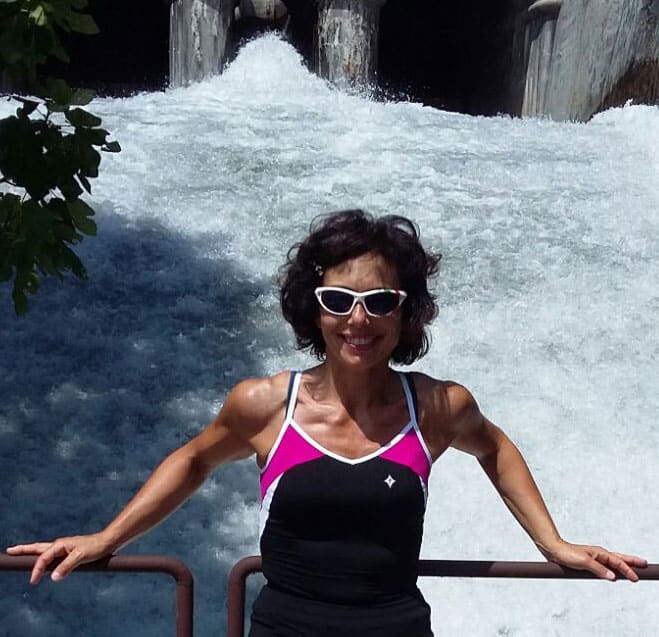 Laura Tortella
Tour Leader
Born and raised in beautiful Verona, Laura is Italian Champion Master of Canoe on various distances.
"I have always been found of sunshine, blue skies & outdoor activities.
Since the last 15 years I have been moving to Tuscany every Summer to balance my upper-body winter training with lots of biking through this amazing land. It was absolutely so easy to fall in love with Tuscany!
Nothing happens by chance, so now I am so happy and excited to collaborate with Elena and Piero leading our outstanding biking tours! "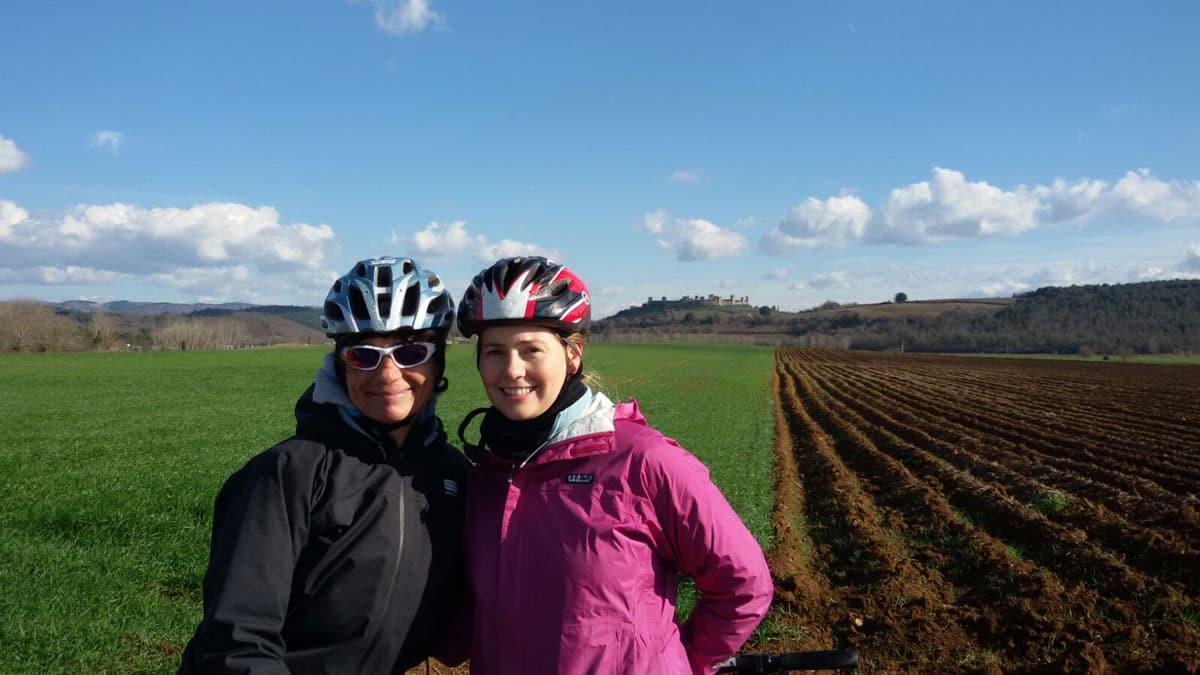 Kristi Bauer
Our American girl in Florence
"Despite our daily efforts to improve our skills, sometimes our English still tends to be… authentically Italian! We are perfectionists so Kristi is our enthusiastic and essential guardian angel dedicated to the supervision of our online texts (Tours, blog, etc.). Memorize her beautiful smile, you'll often run into her on our bike tours!
As an American growing up in Seattle, Italy seemed like a far away dream. When I finally got on a plane to Florence by myself to "see where life would take me" in August 2005, my mom told me that she only had two rules for me – I wasn't allowed to fall in love with an Italian and I couldn't live in Italy forever. Many years later I am still here, married to a native Florentine, and am still amazed by the beauty that I get to see everyday. Whether it be going to work, to the farmers markets, out meeting friends for an "aperitivo" or exploring the city and it's surroundings, cycling has become a way of life for me. I've fallen in love with everything about Italy – the food, the language, the culture, the people and I am so happy to be able to share my Italian dream with others thanks to Bike Florence & Tuscany.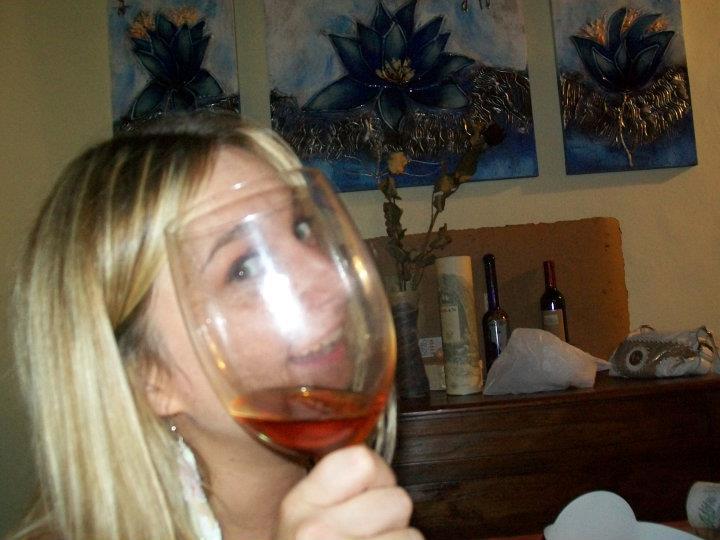 Seila Bruschi
Wine Expert
I savoured my first glass of wine when I was child. I did it while the must was pouring out from my grandpa press-machine. I was born with wine and wine with me. On warm summer evenings, the happiest moments where to run free through the vineyards touching the ripe grapes. I was staying watching them to better understand them and take care. It was then that I realised that I wanted to become a professional sommelier. As I grew up, the desire of knowing every wine's hidden secret grew with me. As a young wine, I subsequently dazzled through the ways to express my oenological identity traveling through hidden cellars, precious terroirs and local traditions. As a more mature wine, I graduated summa cum laude at the University of Siena, with an International Management project for Montechiaro Wines. Today, as a professional AIS Sommelier, I lead Wine Experience and Wine Education lessons.I love to create moments and experiences to let the participants read into the soul of wines, enjoying the real thing. A glass contains much more than the wine itself. It is a shrine of terroirs, knowledges and stories of women and men. I am the passionate trusted guide by wine lovers as well as by those who are simply curious about oenology. By leveraging on the tasting and pairing science I am glad to accompany my guests through the wonderful world of wine, a marvelous blend of colours, perfumes, tastes and emotions.
Our passion for both Cycling and Tuscany
has allowed us to create Itineraries that are only on non-touristy roads.
We will be glad to show you the way and guide our biking tours through the Chianti region, tasting & experiencing wine & food discovering the lived-in neighborhoods of Florence as well as the amazing scenery of Tuscany. A single-day trip deep in real culture and territory of locals, a trip that you will hold close in your heart, take home and never forget.
We believe there is no better or more exciting way to experience all this than on a day tour fully guided by professional, local tour leaders, in a very small group, with your family, friends, maybe making new ones along the way… and all the while BIKING Bellissima Toscana!