 A fascinating journey from Florence to discovery three of the most beautiful Medieval towns of Tuscany:
San Gimignano, Monteriggioni, Siena

Small group bike tour, from 2 to 8 people
Duration
One day trip from Florence to San Gimignano and Siena
Your day schedule
Pick up: 8.30 a.m.
Drop off: 5.30 p.m.
Biking Experience
From easy to moderate
Distance traveled by Cycling
10 to 13 miles / 16 to 21 Kms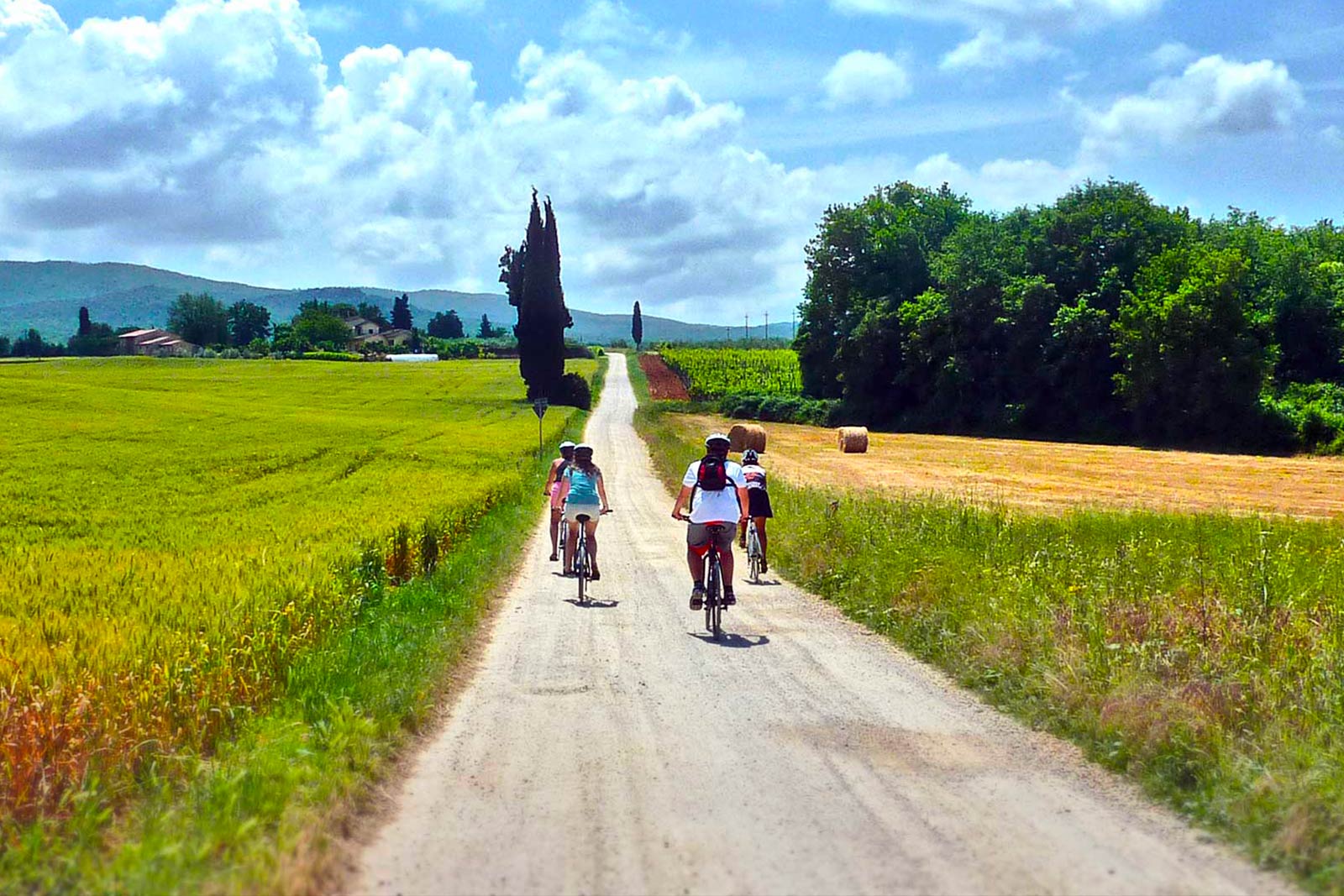 Our San Gimignano to Siena bike tour starts with your pick-up downtown Florence. With our air-conditioned shuttle, we head first to San Gimignano for an early morning visit (before the throngs of tourists arrive) to this UNESCO World Heritage Site with free time to walk around the city walls.
The pedaling starts downhill from here, where we will follow some of the most beautiful, and absolutely tranquil, back-roads. We start off using panoramic pieces of the famous "Via Francigena" which, in the Middle Ages, was used by pilgrims making their trek towards Rome for a blessing from the Pope.
You too get to be a "Pilgrim for a day", following their footsteps, and in many cases gaze upon the same untouched landscape that they too saw as they moved further south. The typical white roads will guide us through vineyards, and sunflower fields with a few surprises along the way.
Biking at your own pace following gentle, soft rolling hills famous for their beauty, we will head to Monteriggioni. A stop to this village is mandatory! The castle, almost untouched by time, the church, the square walls, and the small specialty shops are just asking for photos!
After this second fascinating Medieval break we will head for  Siena on a gently curving road, through the typical Tuscan landscape with churches, castles, villages and beautiful fields.
We will deliver you to the ancient walls of Siena – another UNESCO World Heritage Site – in the early afternoon, with just the right amount of time for a light lunch. Spend your free time strolling the cobbled stone roads and amazing architecture in the city of the Palio and — why not? — have a delicious gelato downtown! Elena and Piero will provide you with a city map as well as the best recommendations for lunch: there are several delicious and affordable local options to choose from.
The San Gimignano to Siena bike tour concludes with us taking you back into Florence with our air-conditioned shuttle. You can just sit back and relax, while we navigate the road back to the city, where you will have time to tour the historic center or grab (another) gelato before dinner.
Head into the marvelous landscape of Chianti on our amazing San Gimignano to Siena bike tour! Visit towns, vineyards. the Tuscany countryside the way it was meant to be seen, slow and easy, in just one-day trip from Florence!
Our exclusive San Gimignano to Siena Biking Tour is going to transport you back in time with three special stops from Tuscany's medieval past:
San Gimignano, Monteriggioni and Siena!
It will be a thrilling excursion that combines cycling, history and sightseeing.
The San Gimignano to Siena Bike Tour features:
The Family-friendly biking adventure (min.age 12 years).
Traveling with younger children yet fit, smart who love biking ? Let us know so that we can size your Family adventure on your need!
Free time in San Gimignano before the tourists arrive
Follow the via Francigena, low trafficked back-roads that the pilgrims in the year 900 trekked towards Rome
Walk through the fortress town of Monteriggioni
Free time in Siena to discovery the highlights of the Medieval city center
Estimated biking time: 1.5 to 2.5 hours
For those who are concerned about not being in shape, or who haven't saddled up on two wheels for a while we have an alternative so that they don't have to sit on the sidelines for this beautiful experience.
Ask us about our high-end Electric-bikes!
Non cycling tour-mates are also welcome in our small groups : contact us to learn more.
Elena & Piero say the San Gimignano to Siena bike tour is perfect for those who:
have little time in Tuscany and still want to see the beauty of the region
want to emerge themselves in the gorgeous Tuscan landscape & culture
travel as a Family with young kids.
This safe itinerary can be modify for those travelling with children under 12 y.o. Please let us know at the time of booking.
OCCASIONAL RIDER

I BIKE OCCASIONALLY

Distance traveled: about 10 miles/ 16 Kms.
Starting point:  from San Gimignano quick shuttle to the starting point of your tour/From Monteriggioni van transfer to Siena.
WEEKEND RIDER

I RIDE REGULARLY ON WEEKENDS

Distance traveled: about 13 miles/ 21 Kms.
Starting point:  from San Gimignano quick shuttle to the starting point of your tour.
Your pick-up and drop-off in Florence downtown –
Piero-Elena leading your day.
Full guidance and van support.
High-quality light-frame disk brakes 27-speed hybrid bike, helmet, water bottle.
Snacks & treats for your ride.
We will be glad to pick you up even if you are staying outside Florence.
Please Contact Us for further details and personalized arrangements or Book Now your favorite.