 San Gimignano easy tour – Take it easy from Florence to San Gimignano!

Small group bike tour, from 4 to 8 people.
Duration
One day trip from Florence to San Gimignano
Your day schedule
Pick up: 8.45 a.m.
Drop off: 4.30 p.m.
Biking Experience
Occasional Rider
Distance traveled by Cycling
13 miles/21 Kms. coasting easy downhill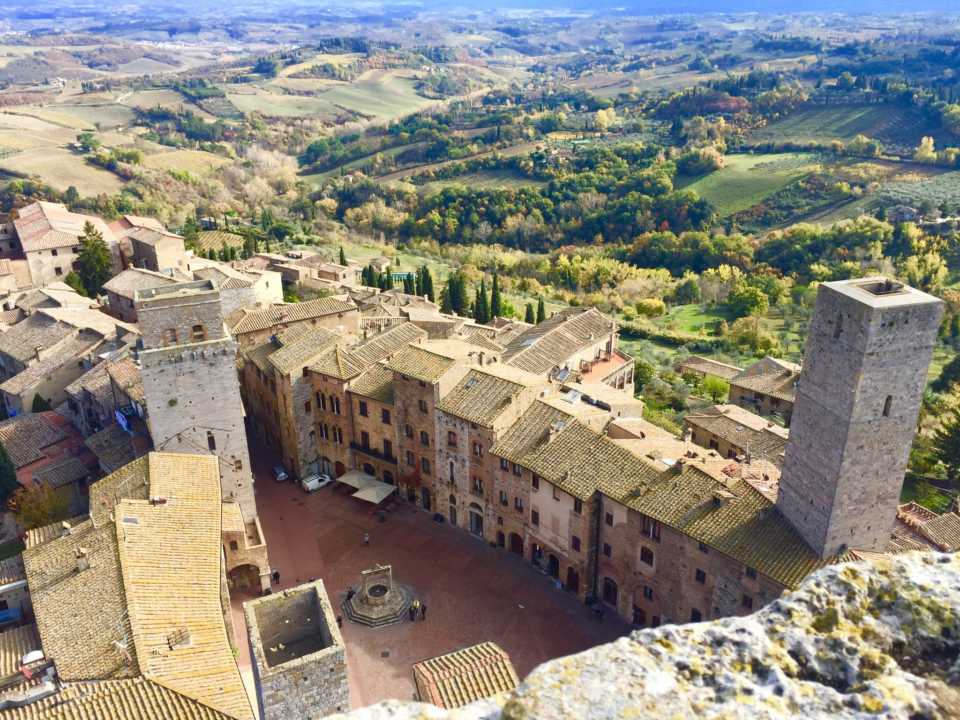 Our San Gimignano Easy tour starts with air-conditioned van transport from Florence through the amazing landscape of Chianti Classico, stopping for a few great photos of the tower town.
San Gimignano in the distance. While moving forward to our first destination we can dedicate some time to enjoying a real " caffe' espresso macchiato" made in Chianti!
Our first town visit is the picturesque Castellina in Chianti with plenty of opportunity to explore the cobbled stone streets and the castle tower of this enchanting town. Upon request, you can even indulge in a glass of Chianti & Vernaccia wine with Tuscan salami and pecorino cheese or a cup of gelato. These are the best ways to energize before starting to cycle!
After a short introductory visit of Castellina, we begin the biking part of our easy bike tour towards San Gimignano. Our path will take us on a gorgeous, traffic-free road in Chianti. Along the road, you will be surrounded and seduced by the typical fragrances of the Mediterranean including wild rosemary and sage, pine wood, cypress, juniper and so much more. We promise a "scent"-sational experience!
We make use of a very beautiful road heading downhill through vineyards, forests, fields and little villages. This itinerary allows for plenty of time to appreciate the views and take many lovely photos.  Once we come to the end of the biking portion of the tour, we put away our bikes, hop on the support van which will take you to San Gimignano, an ancient village famous for its towers, medieval atmosphere, and the much coveted UNESCO World Heritage Site nomination.
Use your free time to thoroughly visit the town and have lunch. Piero & Elena will provide a map of the village as well as the best recommendations for a delicious Tuscan lunch + best home-made gelato!
The tour ends with a van transfer back to Florence.
The San Gimignano Easy tour is our most popular biking adventure from Florence for those looking for a relaxing yet all-inclusive, itinerary.
One day in the countryside that includes quaint villages, castles, wineries, vineyards, gelato stop for kids and manages to do this all (well, almost all) on a gentle downhill trail. In a word, the San Gimignano Easy Bike Tour is perfect.
San Gimignano Easy Tour features:
Relaxing & easy panoramic biking among vineyards, hills & small towns
A guided wine & olive oil experience (upon request)
Free time in Castellina in Chianti for a brief tour of the highlights
VISIT SAN GIMIGNANO: Free time for sightseeing & lunch on your own
Gelato break for kids!
Estimated biking time: 1.5 to 2 hours
Non cycling tour-mates are welcome in our small groups : contact us to learn more.
Elena & Piero say the Sam Gimignano Easy tour is perfect for those who:
Really want to fully explore the tower town of San Gimignano
Love the idea of biking, enjoying the flavors & scenery of Tuscany but aren't sure they are ready for too much pedaling
Are travelling with children (min.age 12 y.o.), especially with our home-made gelato stop
Ask about our flexible itinerary
OCCASIONAL RIDER

I BIKE OCCASIONALLY

Distance traveled:

13 miles/21 Kms. easy downhill

Starting point: 

Castellina in Chianti (SI)
Your pick-up and drop-off in downtown Florence –
Piero-Elena leading your day.
Full guidance and air-conditioned van support.

High quality light-frame disk brakes 27-speed hybrid bike, helmet, water bottle.

Snacks&treats for your ride.

Wine&Extra Virgin Olive Oil tasting upon request (tasting fee incl.)
Gelato stop
Non cycling tour-mates are welcome in our small groups : contact us to learn more.
We will be glad to pick you up even if you are staying outside Florence.
Please Contact Us for further details and personalized arrangements or Book Now your favorite.
Most amazing day!!
My fiancé and I did the bike tour for wine lovers! It was gorgeous!! Piero and Elena were very fun and helpful and focused on what they could do so we would have a great time.