The combination of Tuscany bike tours with the simple pleasure of a full-body wine and the calming view of green grape vines laden with fruit is as much a part of enjoying your holiday in Italy as visiting museums or shopping the markets.
Tuscany Bike Tours that Start in Florence
and go into Chianti
When you search for bike tours in Tuscany that explore Chianti you'll most likely first bump into the classic itineraries where big coaches take tour groups to Greve in Chianti and stop in large, commercial vineyards which welcome you with long tables for mass-production wine tastings. This is definitely an option – but not for those who want to appreciate the essence of Tuscany, and who want an adventure that will forever be the highlight of their trip to Italy.
When you are on a bike and up close and in contact with the region – you will be amazed by the diversity and richness of the land, culture, and history. The traces of this are visible in the landscape, the food, and the culture; while on a Tuscany tour, you can admire all this, and more.
Things to Consider
When booking your biking adventure
The three most important things to consider when booking any excursion, in particular, a trip involving bikes, are tour leaders, equipment, and itineraries. It is the combination of all these elements that make for an unforgettable day.
Here are some key things to help you make the best decision for your next adventure in Tuscany.
Local Guides make a difference
for your bike tour in Tuscany
What makes them so good at what they do? They have passion, communication and leadership skills, and a great sense of humour. But most importantly they know the location. Tour leaders Elena & Piero are local expert guides. They confess that even after 10 years of experience (and thousands of Km biking in Tuscany), they have yet to explore every "nook and cranny" while touring Tuscany by bike. But they can attest to having always taken their groups "off the beaten track." Introducing bikers of all levels to the beauty of the landscape, the curiosity of history, and the deliciousness of small artisanal vineyards.
They can also attest that even after 10 years of guiding guests, they never get tired of taking a group of enthusiasts on a Tuscany bike tour. They bring fun facts, laughter, and enthusiasm to the excursion. Plus, they know their territory.
Local guides, who choose to know the territory, transform a good bike tour into an exhilarating bike adventure.
Piero, a native of the region, and Elena, who has been exploring the area for over 15 years, know Tuscany like … well, like the tread on the tires of their bikes. They don't create cookie-cutter bike tours, they create a Tuscan experience. The destinations may be mapped out, snack stops carefully programmed and a support van close on your heels (without being invasive). But only a native to the landscape can incorporate the sunflower fields photo spots, the chance to feed a real wild boar, and breathtaking – unadulterated panoramic views on a Tuscany bike tour.
Hybrid vs E-bikes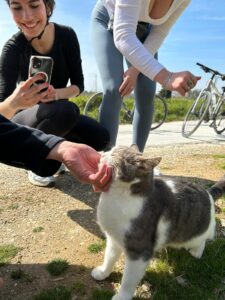 You can't enjoy a bike ride with a faulty bike. If you don't feel comfortable sitting on the seat, or if you can't change the gears or get good traction with the breaks, or if you can't touch your toes to the ground then you are not going to enjoy pedaling the paths. No matter how easy the roads
and trails are to navigate, faulty equipment means a rough ride. Check out the brand and model of the bikes – it should always be considered a red flag if the description of the bike fleet is missing. Bike Florence & Tuscany are upfront about who they use.
These hybrid bikes are trendy, lightweight, and comfortable: Specialized Sirrus Comp Disc with 27 handle gears will give you the perfect ride.
Another consideration is to look for diversity, not just quality. A company that cares about your biking comfort will offer options, for example, electric bikes. E-bikes offer "a sophisticated system that uses a combination of pedaling and a battery-operated motor which kicks in on the more challenging parts of the itinerary." Bianchi e-bikes, for example, are an Italian brand known for their reliable products and are placed high on the list for quality.
Favorite towns in Tuscany
for a bike ride itinerary
Experts will tell you that a well-constructed itinerary will combine the "famous" and well-known with the curious, the popular with the hidden gem, and the mainstream with something special and unusual. So, the last consideration when you choose a Tuscany bike tour itinerary is to look for the perfect mix of known and unknown. Study the stops and activities in the excursion that include something you never heard of, something that fills your Tuscan bucket list, and something that sparks your curiosity.
Chianti in Tuscany is not only a wine, but it is an entire geographical area approx. 10 thousand hectares, (that's just about the size of Massachusetts). It is known for its mild climate, lush vegetation, and fertile soil and welcomed its first settlements as far back as the 2nd millennium BC. The Etruscans were the first to modify the Chianti landscape by cultivating the terrain with grapes and olive plants. Romans and Lombards developed further the area with villas, farmhouses or "curtis", and fortified clusters of buildings.
Here is a list of a few noteworthy destinations that make for an intriguing itinerary.
     San Donato in Poggio
San Donato in Poggio is a beautiful medieval town sits on a hill, overlooking the valley of Pesa and Elsa rivers. The town has a rich history that dates back to the early 11th century due to its strategic location along the Roman road Cassia, which connected Florence to Siena.
The town was fortified with walls in 1033 and soon became a bustling commercial center, leading a local League and governed by a Podestà chosen by the Florentine Republic. Today, visitors can still see the grand Porta Fiorentina, and the Florentine Gate, and walk through the town's delightful alleys, with colorful geraniums framing portals and arches made of traditional white stones of Chianti.
The central square of San Donato in Poggio is a must-see, with its elegant mansions such as Palazzo Ticci and Malaspina. However, the most remarkable feature of the town is the parish church of San Donato, also known as Pieve, which recently celebrated its millennium of life. The church is a typical example of Romanesque architecture in the Chianti area, with three aisles and a tall bell tower, all built-in pure ivory white stones of Alberese, which is the same rock that you'll see biking towards Siena.
     San Gimignano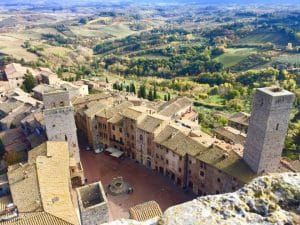 San Gimignano is a small hill town in Tuscany, Italy, famous for its well-preserved medieval architecture and skyline of 13 towers that rise above the surrounding countryside. These towers were built by wealthy families in the 13th and 14th centuries as symbols of their power and wealth.
During this time, Tuscany was divided into numerous independent city-states and rival noble families competed for power and influence. The towers were not only symbols of prestige but also served as defensive structures in times of conflict. Some of them were connected to the family's living quarters while others were purely ornamental.
Today, San Gimignano is a popular tourist adventure for bikers and a UNESCO World Heritage site, drawing visitors from all over the world to admire its rich cultural heritage and the stunning skyline of medieval towers.
     Monteriggioni
Monteriggioni is a famous walled town in Italy, known for its well-preserved walls that date back to the Middle Ages. The town was built by the Senesis between 1213 and 1219, and it was strategically located on a hill overlooking the Cassia Road. This location allowed Siena to control the Elsa and Staggia Valleys, and also to monitor the movements of Florence, which was a historic enemy of Siena.
The walls of Monteriggioni are almost entirely intact, and they stretch for a length of 570 meters. The walls are punctuated by 14 towers and two gates. The Senese gate is located at the base of a tower, while the gate leading towards Florence is situated in the curtain and is defended by one of the towers.
Monteriggioni's fame was so great in the Middle Ages that it was mentioned in Dante's Divine Comedy. When you enter the city walls with your bike, you will be transported to another era – though there are no promises of meeting Dante's ghost.
     Castellina in Chianti
Castellina in Chianti is a fascinating place to visit for history and archaeology enthusiasts. The city's origins date back to Etruscan times, and there are visible remains of this ancient civilization to examine, both at the well-marked archaeological sites and in the Archeological Museum in the city center. The museum displays important archaeological findings from the surrounding areas that testify to the ancient origins of the Chianti region.
Besides the medieval vias and covered galleries, this town has several artisans specializing in wine, culinary treats, and gelato. While walking through the sleepy little town, it is easy to appreciate the timeless beauty of the stone palazzos, the main square, and the castle which has a panoramic position in the town center.
     Siena
Siena is a must-see destination for anyone biking in Tuscany or Italy. With its rich history and stunning medieval architecture, the city is a UNESCO-listed historic center that has preserved its medieval charm.
Siena is known for its beautiful narrow streets flanked by brick buildings, making it a perfect city to explore. Visitors can admire medieval masterpieces such as the imposing Duomo and the breathtakingly beautiful Piazza del Campo, which is considered one of the most beautiful squares in Italy. The historical center is truly unique, with its medieval architecture and charming atmosphere. The city is surrounded by a well-preserved 1,000-year-old wall, adding to its unique character.
Whether you're interested in history, or art, or just want to soak up the atmosphere of a beautiful Italian city, Siena is the perfect destination to explore after a bike tour through Tuscany.