NEWS FLASH!
Chianti Classico UNESCO World Heritage Site Nomination 🍷
It is official! The system of "farm-villas" in the Chianti Classico region has been officially included in the Italian list of candidates for World Heritage Sites. This is the first important step on the path to achieving universal UNESCO recognition.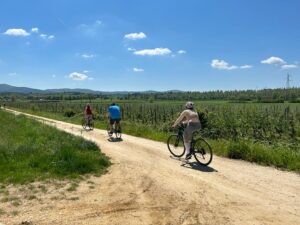 Piero & Elena have always recognized the unique characteristics that identify the
Chianti Classico territory
– and are excited about this official recognition in the form of a proposal. We will all be waiting to see if it is accepted onto the UNESCO World Heritage Sites. Their exclusive bike tours include trails that take you by some of the more beautiful farm-villas in the countryside between Florence and Siena.
Tuscany is already home to seven UNESCO World Heritage properties: Historic Centre of Florence (1982), Piazza del Duomo, Pisa (1987), Historic Centre of San Gimignano (1990), Historic Centre of Siena (1995), Historic Centre of the City of Pienza (1996), Val d'Orcia (2004) and Medici Villas and Gardens in Tuscany (2013).
Why is the Chianti Classico UNESCO World Heritage Site nomination so important? The President of the Region Eugenio Giani explains, "Chianti Classico, one of the iconic images of Tuscany in the world, represents in itself a cultural value of our region and our country, and with its inscription in the Unesco heritage, it will be able to fully exalt its role."
At Bike Florence Florence & Tuscany, Elena and Piero have made it a key factor in their tours to highlight the cultural beauty of the region – especially Chianti Classico including wine tastings at the more distinguished and authentic vineyards. Their tours include ample opportunity to view the distinct characteristics of the landscape and taste the genuine flavors of the area.
Stay tuned as we follow the progress of the nomination of Chianti Classico.