By Elena Boscherini, your guide at Bike Florence & Tuscany
Updated: July 3, 2019
And you all know that gelato was invented right here in Florence!
Personally, I love gelato and I am very critical when I am giving it a vote. I have taste-tested lots and lots of gelato to compare the quality (I am totally serious – that's my story and I am sticking to it!)
After a day of pedaling through Tuscany into Chianti, up to the hills of Mugello and downhill to Florence on a one day bike tour there is nothing better to supercharge my energy reserves than a cup or cone of gelato!
The following list includes many of my favorites.  Being a tough judge, I tried to consider several elements: not only the quality of the ingredients, the authenticity of the flavor and the consistency of the gelato but also the quality/price ratio.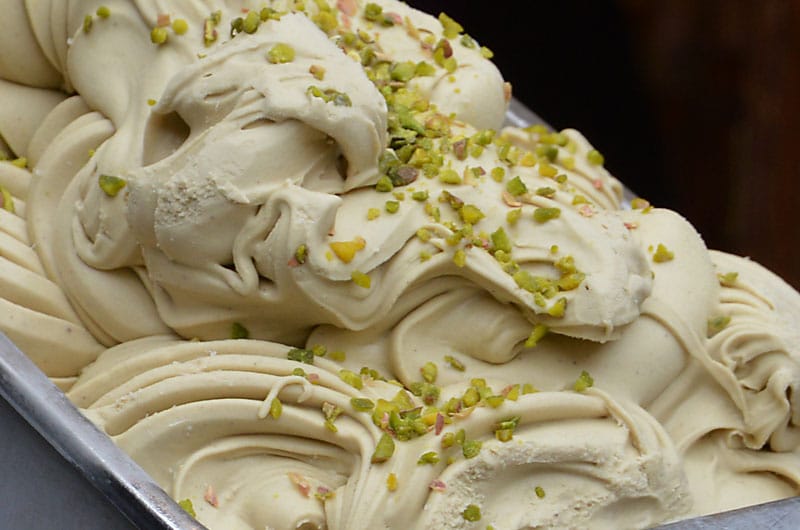 I adore the flavor pistachio, and its unique nature and peculiar flavor make it an excellent test subject. But, I must admit, I have a hard time refusing the cream flavor, or bacio flavor or hazelnut flavour or even "fiordilatte" – as you can see I am a softy when it comes to gelato!
---
When choosing my favorite gelato one of the deciding factors, in my opinion, gelato needs to be creamy with the light flavor of fresh milk and cream…fruit flavors usually come in as a runner up for me.
---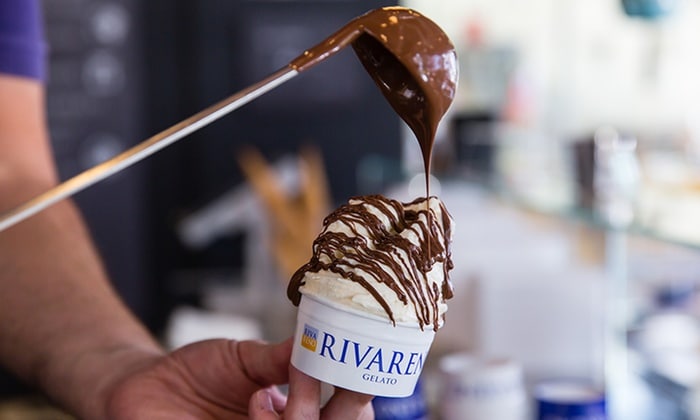 1 – Rivareno
(Via Borgo Degli Albizi, 46/R – Florence) This is without a doubt, the best gelato downtown. The big surprise here, the pistachio flavor is actually a sorbet and that means so no milk added (for all who are lactose intolerant, this is for you!) I promise, you will have a hard time recognizing that it is a milk free version of a classic. If you are staying downtown – you need to find this gelateria.
2 – La Sorbetteria
(Piazza T.Tasso, Oltrarno Florence) This is a tiny little gelato place, just a hole in the wall, and they have very limited hours (in the summer 12.30 till 10.30 PM) I love to use this as main stopping place when I am on a stroll on the "other" side of the Arno River, and it gives me just enough calories to make my way back home. The gelato is soft, creamy, flavorful and easy to digest – even the cone is excellent.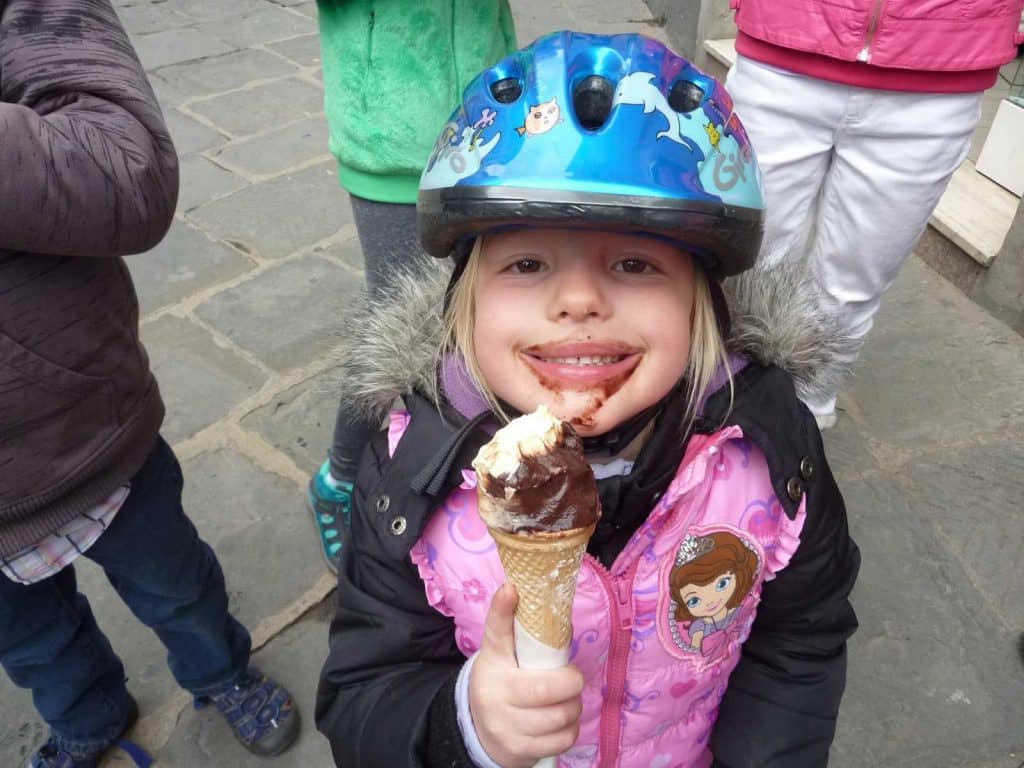 3 – San Gelato
(via Marco Minghetti 17R – zona Bellariva, Florence Since this is a bit outside the city center, here are directions on how to get there: Catch bus 14 from the SMN train station in the direction of Via della Ripa and get off at the SANGELATO Minghetti stop)
This place has a cute play on words (saint gelato) which always makes me laugh.  They specialize in personalized gelato recipes – not only the everyday flavors! I love that they also provide vegan options. Another reason I will go out of my way to visit them: I prefer my creamy goodness in a cone and at San Gelato, the cone is a superior quality, light, flavorful, crunchy and perfumes of vanilla.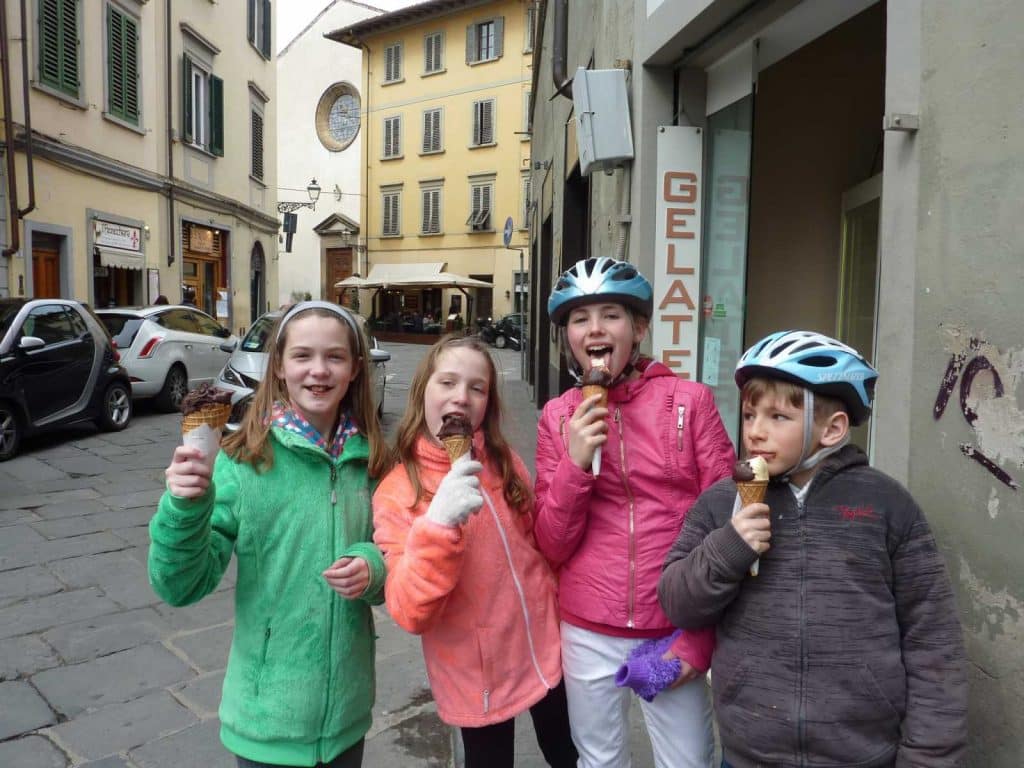 4 –Badiani Gelateria
(Viale Dei Mille, 20/r, Florence Zone: Stadio/Campo di Marte) Buontalenti flavored gelato: alas my friends this is where it all began. This particular flavor is all about the cream, the milk, the eggs, the sugar … can it get any better? This particular gelateria has been specializing in reproducing the Buontalenti flavor since 1932 and it is perfect! But they also have lots of other flavors and "semi-freddo" desserts (just think: cakes made with gelato!)
---
In the 1500's, a famous architect, sculptor and painter Bernardo Buontalenti, also had a passion for cooking. He was invited to prepare a sumptuous meal for both Italians and foreigners and in this occasion he presented his fabulous sweet icicles which were a personal recipe made with superior products. They were an immediate success
---
5 – CassiaVetus
(Via Alessandro Manzoni, 9, Terranuova Bracciolini, Arezzo) A traditional Gelateria and the perfect stop for all those who have opted to base themselves in the Valdarno valley just outside of Florence in the direction of Arezzo.  I just couldn't leave them off the list because they have the best Pistachio.
Ever.