TripAdvisor Travellers' Choice 😎
When you got it, flaunt it!
At least that's what the lyrics tell us — so here goes:
For almost ten years, Bike Florence & Tuscany has been on the receiving end of the coveted "TripAdvisor Certificate of Excellence – Best Traveller's Choice Certificate" – which awards businesses that consistently deliver great service and who have a long list of reviews on TripAdvisor to prove it.
---
To qualify for a Certificate of Traveller's choice a business must:
Maintain an overall TripAdvisor rating of at least four out of five

Have a minimum number of great reviews

Have been listed on TripAdvisor for at least twelve months
---
In fact, the most important criteria are the TripAdvisor reviews – because the status of excellence is calculated by the public – the very same people who are on the bike tours with Piero and Elena, owner and guide at Bike Florence & Tuscany. Using TripAdvisor as an unbiased platform, their guest publish comments, appreciation, photos, and suggestions for future visitors to Tuscany.
These comments are useful tools when deciding on an itinerary for your vacation in Florence and Tuscany.
Bike Florence & Tuscany is thrilled to be part of a service that rewards outstanding service and they are particularly happy to be showing so many TripAdvisor® Certificates of Excellence on their site (2015, 2016, 2017, 2018, 2019, 2020, 2021, 2022 and now 2023).
But what makes them even more excited – are the reviews themselves. The concept is actually really simple; excellent reviews mean that they have happy and satisfied guests, and this is key both to a successful business, and to their own personal gratification.
---
Our priority is our guest's satisfaction. We pour everything into making sure that each and every bike adventure in Florence and Tuscany is a memorable and personal experience for those who choose to tour with us – and nothing could make us happier to see the comments that tell us just that! – Elena
---
Excellent Service
Great itineraries, quality bikes, prompt customer service, and customized tours all makeup important elements of the Bike Florence & Tuscany business plan.
But what makes Bike Florence & Tuscany become the best part of your vacation in Tuscany?
It's the personalized attention from the key players – your tour guides and support staff. And they don't have to tell you that this is what they do, just read the comments, their warm and friendly personalities shine forth every time, and the guests will tell you so time and time again in the reviews on TripAdvisor.
Here are just a few of our favorites from:
a private tour with Elena. She was warm, charming, fun, informative . . . I run out of adjectives!
ReedieTeacher (Boston, MA)
Elena was an excellent host and made us riders feel very safe. She was incredibly knowledgeable about the area and the views we go during the ride were breathtaking.
alexw0l (Sydney, Australia)
…my family of five including three kids 6, 9 and 11. We also continued by van to Siena. Piero was incredibly professional and provided us with a superb day in the countryside.
Stephen R
The team was very responsive to all my pre-trip questions and offered a variety of tours.
John I (Barcellona, Spagna)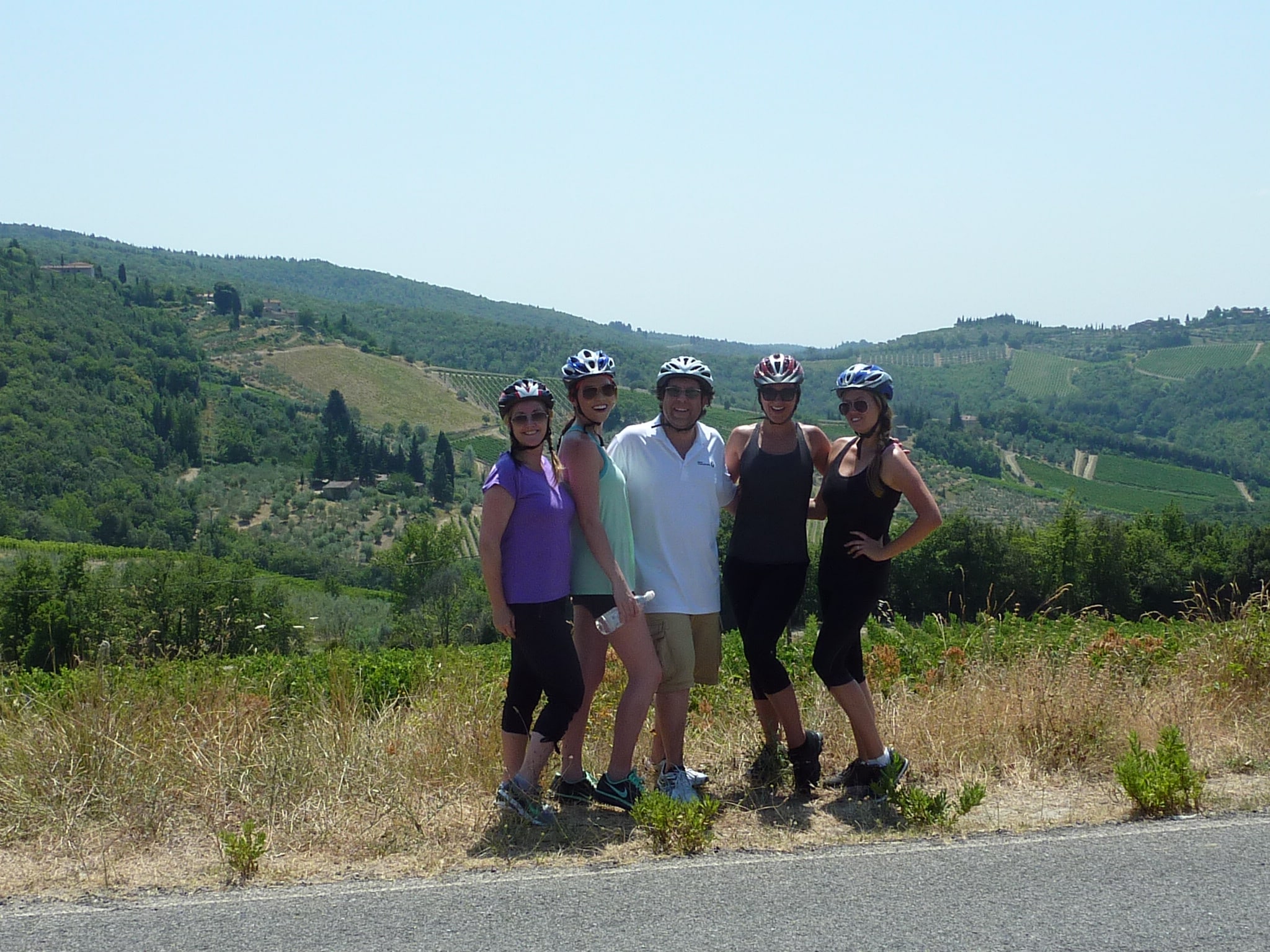 Just a few more of our favorites:
Outstanding day and a great set of hosts (Piero & Elena)!
Most of what I can say is WOW. Piero was wonderful.
A family run business, so one of the owners is always with you ensuring a top-notch experience.
In the words of one of our guests: (it) doesn't get any better than this.