Chianti Region – tour and wine tasting
Chianti Region tour and wine tasting : did you know when you think about Chianti region tours and wine tasting that you are actually thinking of a zone (and not the Italian government borders of a region)? The Chianti area covers about 169.4 km² of the 22,985 km² in the region of Tuscany, the green heart of Italy.
Even though it is not correct to use the term "region" to describe Chianti, it is absolutely correct to imagine it as a very distinct geographical area with picture perfect photo opportunities, low lying hills and fields of grapes, olives, and even sunflowers.
In fact, these are typically the very characteristics which come to mind when making plans to hop a bike and take a leisurely guided tour. A logic which we can't fault because this is exactly what you can expect on a bike tour of Chianti.
Italy is legally divided into 20 regions which are then divided into provinces and then commune. Tuscany is the region where you will find the Chianti & Chianti Classico wine area.
On a Chianti region tour
Not only do the two words "Chianti region" summon up extensive vineyards, patchwork fields of grain and corn and the silver-green glitter of olive trees but it also brings to mind a way of life – the Tuscan dream. For many, the concept includes the essence of the Chianti area: medieval tower towns, food markets, rural landscapes, and enviable Tuscan tranquility.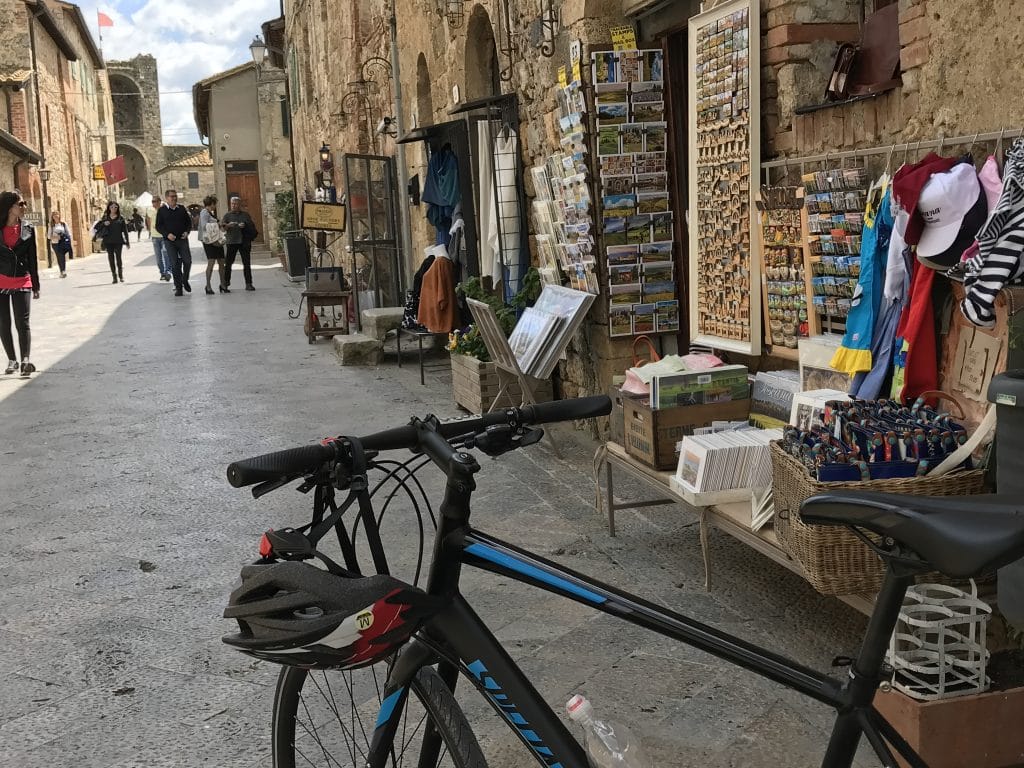 The beauty of the area is what makes it an ideal destination for any type of tour, but especially a bike and wine tour since it includes stretches of roads without traffic, lots of panoramic scenery, and numerous quality vineyards each with an antique wine cellar to visit for a wine and olive oil tasting.
Areas like Panzano and Castellina in Chianti, which have earned the name Conca D'Oro, the golden basin, evoke classic scenic views of Tuscany and Chianti.
Perhaps some of the most renowned views are those of the Conca D'oro. Many mistakenly believe that the name was chosen because it is a particularly warm and sunny area in Tuscany. And though it's true that this zone seems to forever forecast blue skies, actually the nickname comes from golden hues of ripening wheat which was grown all over the region but especially here between the rows of grapes in Chianti.
Wine Tasting Experience
Wine is not just a drink in Tuscany, it is part of their very culture. It makes its way to the table for all the main meals, happy hour, an evening with friends or a mystical moment of meditation. If you were to go into the supermarket, there seem to be as many different labels as there are stars in a midsummer Tuscan night. For this reason alone, a wine tasting tour can make so much sense while on an adventure in Chianti: learn how to distinguish your favorite flavor of Chianti.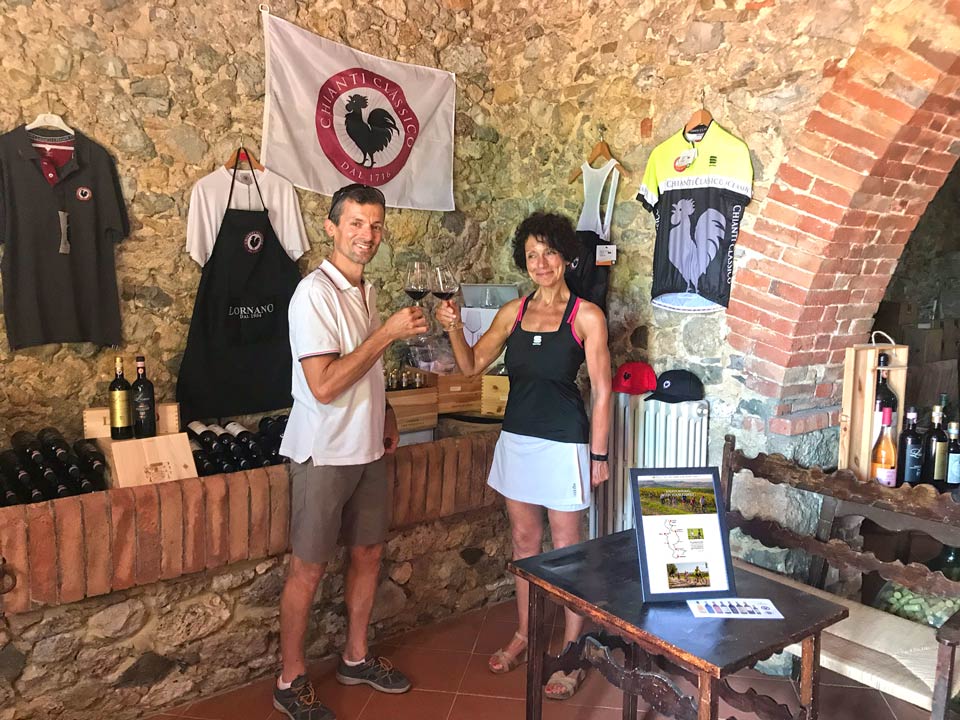 Especially interesting is a tour which features not just quality wines, but also local producers, highlighting the "bontà" of the area.
A wine tasting tour is normally composed of 4 components: a visit to the vineyards, an introduction to the wine making process, a tour of the wine cellar and a guided tasting of the various productions including their extra virgin olive oil. However, many times a do-it-yourself wine tour won't get you behind the closed doors of the vin santo cellar, or a sip of their prized grappa … you need an insider, like Elena and Piero Owners and expert tour guides at Bike Florence and Tuscany.
An insider will also get you the best wine experiences which are normally guided by the owner of the vineyard, who has an invested passion in the bottles or a sommelier, who has a trained palate and nose.
Best Choice for a One Day Biking Adventure
In conclusion, those who are looking to experience the natural beauty of Chianti combined with delicious flavors of the wine from the area could do no better than book space on an organized guided bike tour.
Take a break from museum lines, selfies in front of monuments, and bustling Renaissance cities. Join forces with expert and local guides and let them show you the best of Tuscany.
The toughest decision you will have to make is which itinerary you want to bike in the Chianti "region": San Gimignano, Siena, Castellina, Radda in Chianti, Gaiole….