When we talk about cycling in Tuscany it is impossible not to mention Eroica.
The Eroica is a cycling event reminiscent of the historic past of this area that passes through the "strade bianche" (white dirt roads).
In the last few years, the Eroica has become the most followed non-competitive race in the cycling world.
What's unique about it is that it brings back that cycling style that made history in Italy, in the nature and atmosphere of the Chianti of long ago with the aim of rediscovering the roots of what it means to be Tuscan – amidst wine and traditional dishes.



The Eroica is not a true race or competition, but a cycling event, where riders are free to start at will within a determined time frame.
The true "heroes" usually start in the early morning hours! There are no final rankings, but the start and finish times are given for every participant in alphabetical order.
The starting line is in Gaiole in Chianti and the routes twist and turn through Chianti towards Siena and Valdorcia, up to Montalcino, with numerous latches, sometimes with steep slopes that are difficult to take on with racing bikes of the past.
Participation in the Eroica is reserved for cyclists between the ages 18-65 years from the whole world with just one condition: all participants must wear period bicycle clothing or vintage looking clothing and only historical bicycles, particularly road race bicycles, especially from the early twentieth century, are allowed.
The race, or ride as we might call it, has four different routes: 209 km, 135 km, 75 km, and 38 km. Dirt roads are the main feature, proving themselves to be a symbol of practicability on a human scale and also an indication of an area that is still intact from an environmental standpoint. The route requires participants to suffer and sweat without losing their smile and gives the satisfaction of a day spent on pure cycling.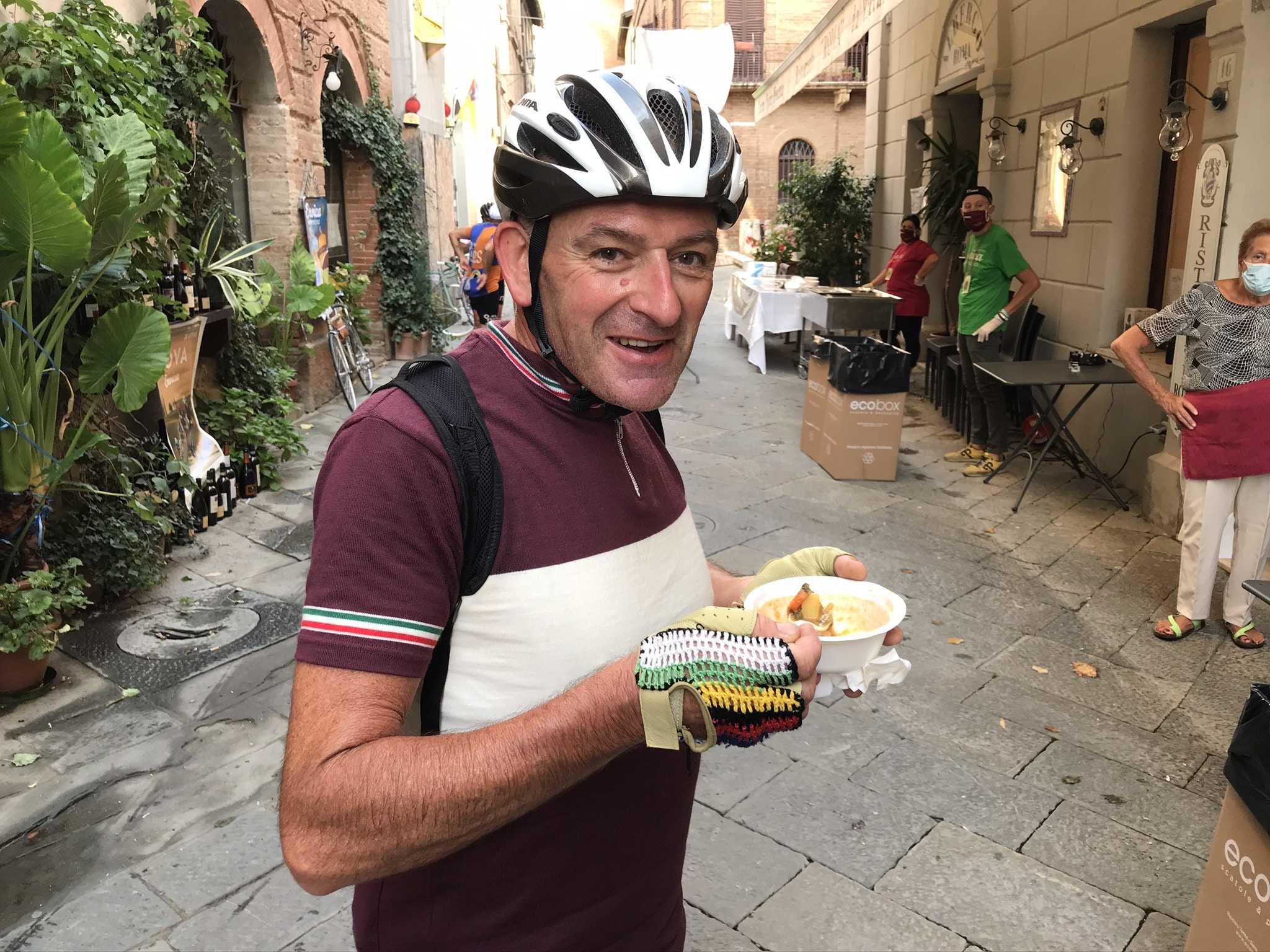 Bikes allow us to seize aspects that are otherwise hidden to other more comfortable means of transportation and at the same time consents us to cover significant distances in sustainable time allowing us to discover the various wine areas, landscapes and history, and therefore different colors, scents and products. For this reason, the refreshment stands set up along the way make for enjoyable stops.
As opposed to gulping down supplements, riders stop to drink wine and eat Tuscan bread and capocollo with pecorino cheese before hopping back on their bikes while munching on tasty grapes. Some of the more prepared participants carry "bricks" of polenta wrapped in newspaper in the pockets of their jerseys.
Traditional dishes from the Siena and Tuscan area are what fuel the athletes, as the creators of the race affirm: "We can accomplish great feats by bike by nourishing ourselves as the great champions of the past did; that heroic cycling that led up to the years of the Dolce Vita is a time that needs to be known and rediscovered in order to plan the cycling of the future".
"The Eroica is a poem written with a bicycle" – said Giancarlo Brocci the creator of the event that began in 1997 with its first 92 "heroes" that he affectionately describes as "hunters of feelings and emotions". Nowadays, on the first Sunday in October, during the grape harvest, 5,000 participants start out on their adventure among the vineyards of Chianti.
However, the thrill of riding along these roads is a gift that is possible all year long with the Permanent Route that starts in Gaiole in Chianti and goes on for 209 km in a charming series of locations and surroundings that follow one other.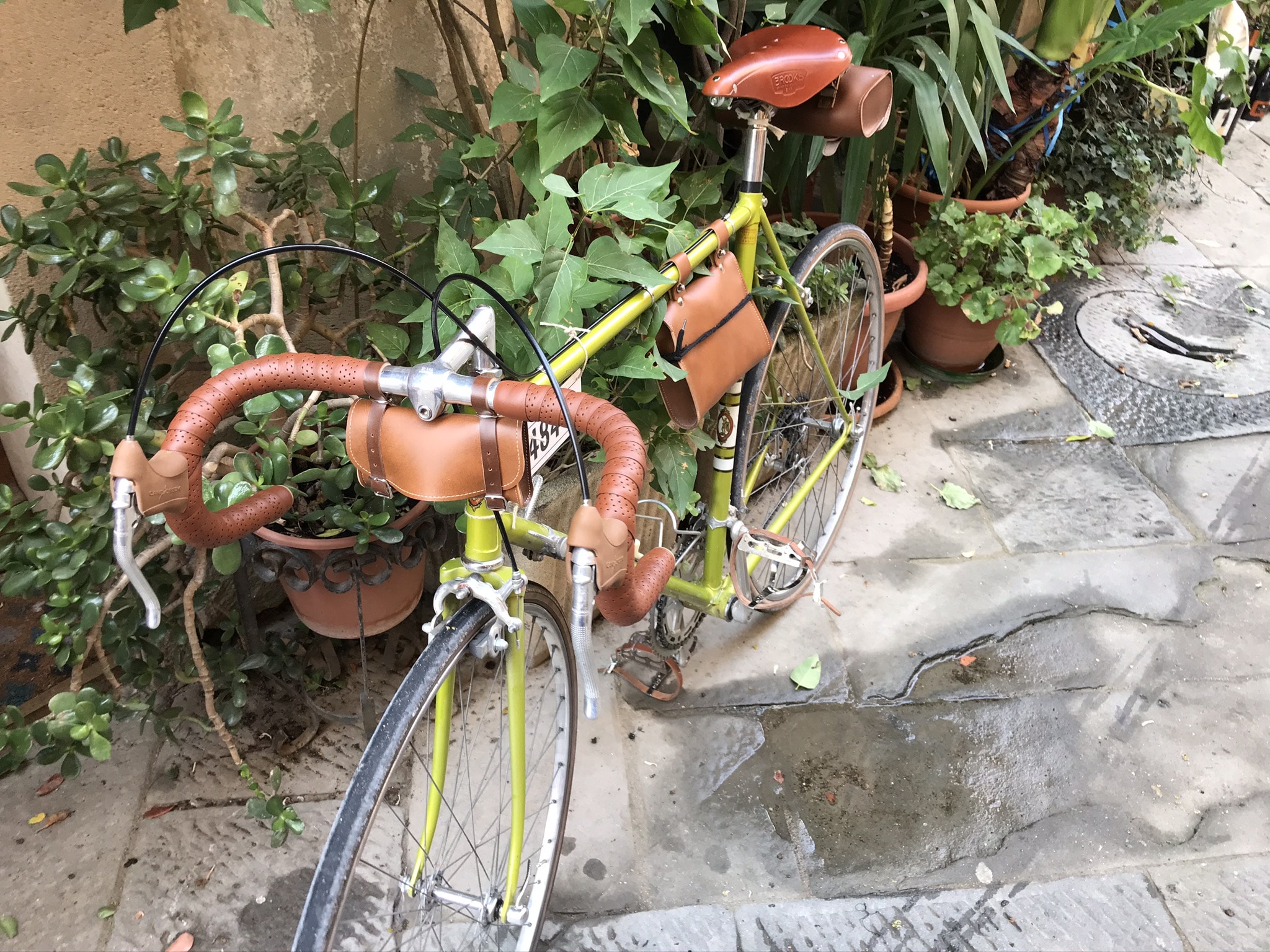 Through villages and vineyards, woods, olive groves, town squares and pastures that poets and artists have tried to capture in their works, cyclists can discover joy with no end pedal after pedal.
The bicycle represents a lifestyle that melancholically brings us back to the glory days of Coppi where "beautiful Italy" gave a sense of wellbeing and the joys of life hadn't given way to the frenzy of today's world. To participate in the Eroica is a personal challenge, but also a moment for yourself, to reclaim some time to see and feel the pleasures of a healthy exertion, appreciating the colors of the countryside that can warm your heart.
With the Eroica, salami is not just a bearer of healthy cholesterol, but a milestone of a healthy life tied to a rural lifestyle and genuine habits. Living the Eroica brings you back to your roots and an understanding that strict diets or macrobiotic obsessions aren't necessary and that sports for their own sake don't make us healthier.
This is why the bicycle is not a sport but a new way of reclaiming ourselves, our nature and our lands by living on them without owning them. It is an integration of man, nature, wine, and food.