San Gimignano is THE classic symbol of the Tuscan landscape
Wondering what to see in San Gimignano? In this amazing little town, there are over 10 remaining "torri" which were once part of more than 70 towers that dotted the city map. Seen from a distance, the skyline is simply stunning, never failing to enthrall tourists and locals alike. However, to get that same feeling when you see it up close requires a bit of insider knowledge.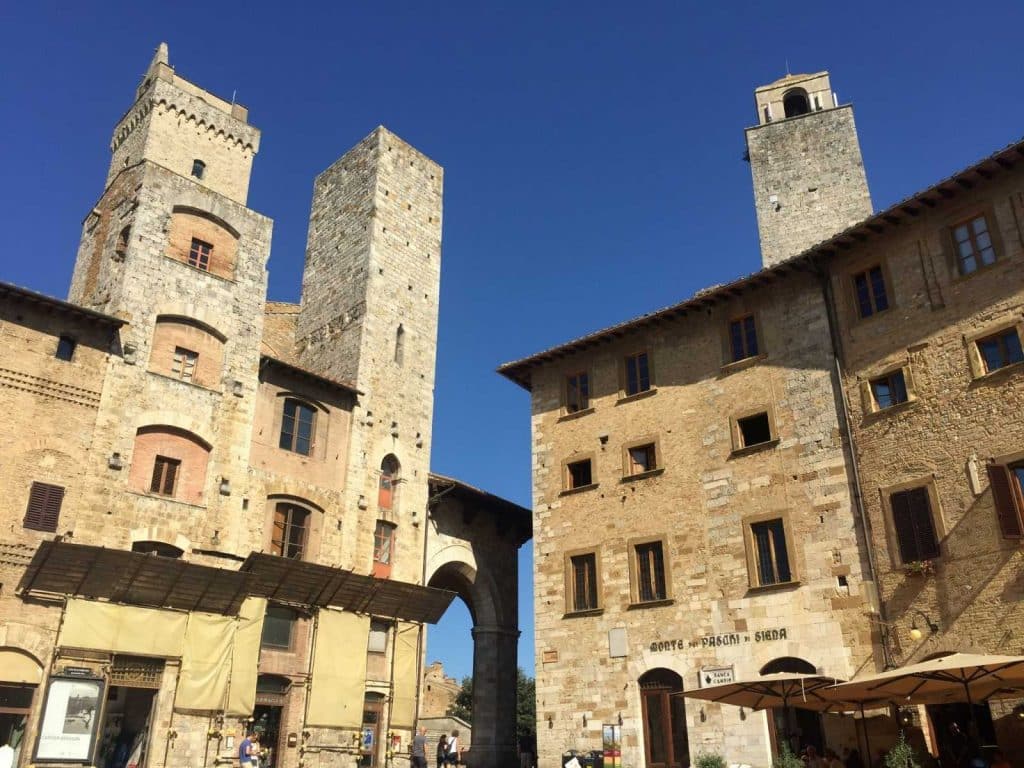 In fact, in order to truly appreciate the uniqueness of this homage to medieval architecture, a few helpful hints would certainly assist you in making this a memorable visit. The first thing to remember is that since this is such a popular stop: to enjoy a tranquil and quiet stroll, then the best time to visit is early in the morning or after 5 pm.  It's not by chance that the duo at Bike Florence & Tuscany makes San Gimignano their first stop early in the morning!
Elena and Piero, expert bike tour guides with Bike Florence & Tuscany, know just how to make the most of your time while in this evocative medieval city and they normally just share these pointers with the guests that accompany them on the San Gimignano to Siena one day bike tour.
Besides the towers, the Duomo and the museums, here are a few ideas to make your trip memorable – even if you only have 60 minutes to dedicate to the town:
1 – A romantic stroll
A walk along the city walls which date back to the second ring built in the 13th century and extend for over 2 km is one of the best ways to explore the beauty of San Gimignano. There are eight entrances into the city, thus allowing you to make your visit as long or as short as you want. And the great thing is, where ever you enter, you will find a great place for panoramic photos.
An extra hint: go to idea number 4 and then return here!
2 – Time for just one monument
If your time is truly limited to 60 minutes, then you need to get a little picky — and that might mean narrowing down the historical monuments to visit. For example, one that should always be on your list includes heading straight up to La Rocca di Montestaffoli.
---
Originally a castle of the Lombard Astolfo, later a Dominican Convent, this fortress was built by the Florentines in 1353 when the town submitted to Florence to protect it from possible attacks by Siena or from internal riots that may arise inside the town itself.
---
3 – An espresso & pastry?
If you are going to take their advice and get there early, then you are going to need that famous Italian "seconda colazione" (second breakfast). You won't find these two indulging anywhere other than Caffè Giardino, just outside the main entrance of  Porta San Giovanni. If the weather is nice they might just sit outside.  But. They normally wait (and work) within the panoramic sala of the cafè with its picture window looking over the Tuscan landscape because, not only is the coffee hot, the pastries fresh but there is free WiFi and a clean bathroom.
4 – Gelato is good summer, winter or fall!
Elena & Piero have yet to find someone who said no to a gelato. In fact, they have found whatever bike tour they do, there is always a guest who is very clear on their need to eat a gelato! And they inform me that age is no indicator who this gelato searching soul will be. While walking around San Gimignano, they will send you to Dondoli in Piazza della Cisterna. The best flavors? Pistachio and Bacio are their favorites. However, if you are still undecided, Dondoli specializes in flavours that make the most of the local perfumes like that of the Vernaccia wine, saffron flowers, and fresh fruits.
5 – Time permitting, maybe some lunch (or dinner)
Obviously, if you are tight on time, you might not be able to sit down and enjoy a full meal of the local culinary delights. But. For those who have planned more time, or intend on coming back after the bike ride, Elena and Piero like to point out two of their absolute favorite restaurants.
 Trattoria Le Vecchie Mura, as the name suggests it is positioned along the antique walls of the city and offer a stupendous terrace and a fabulous view of the San Gimignano landscape — not to mention a menu with many of the traditional recipes like Wild boar cooked with local Vernaccia wine.
Another favorite is Locanda La Mandragola, nestled within the city streets, offering indoor and outdoor seating and featuring specialties like Cinta Senese and saffron, typical to the area.
6 – Vernaccia wine tasting
Did you know that San Gimignano is home to one of Tuscany's great white wines?  That's right, in a land which appears to excel in only reds you will find the first DOC white wine of the region.  Just outside of the city center, but not necessarily within walking distance, "La Rocca"  offers a place where the many labels of the famous Vernaccia di San Gimignano gather together to preserve their story and showcase their flavors. You will find a wide selection of ever-changing producers displaying their wines and offering wine tastings of the Vernaccia di San Gimignano DOCG and Vernaccia di San Gimignano DOCG Riserva.