The Best 5 Reasons to Plan a Private Bike Tour
Thinking on a private bike tour in Tuscany? Perhaps one of the most memorable ways to visit Tuscany is with a customized or private bike tour, tailored to your specific interests. Many time this option is glossed over by travellers who think that it is out of their range – without even investigating the pros and cons of including a private tour in their itinerary.
Private bike tour in Tuscany : let's debunk that myth with these 5 excellent reasons why you should consider contacting a professional and award-winning biking agency in the heart of Tuscany and begin planning your next adventure!
1) Make the best use of limited time.
One of the saddest things about vacations – they are always too short! So the best way to beat the vacation blues is by making the most of the time you have by relying on local professionals, they can combine places, experiences, history and new memories all in one exhilarating package with a custom tour.
All you need to do is be ready to go at the pick-up spot and the rest of the private bike tour in Tuscany will be handled by professionals. First choose an agency that provides local guides and which have several itineraries combining the beauty of the landscape with one of your favorite activities, like visiting the Roman ruins of Fiesole, searching for the perfect gelato, taste testing the best wines in Chianti or visiting the small towns of Tuscany.
And if you don't see one that is a perfect match to your skills, interests or requirements – then contact them directly and make your own itinerary!
2) Provides all necessary equipment
Whether you are an advanced biker who enjoys the thrill of pushing to the top of the next summit or a family gathering with a wide range of ages looking at pedaling the Tuscan landscape, you are going to need the perfect right equipment. And let's admit it, this is not the kind of stuff that will easily fit into your suitcase!
You will want the promise of quality hybrid bikes that fit your skill level and you will want someone who knows how to care for this equipment, like Piero from Bike Florence & Tuscany, an MTB/road bike enthusiast and founder/owner of the largest bike shop in Florence for over 20 years. Bikes, helmets, pedals – you name it and a truly professional tour agency will help you prepare for it.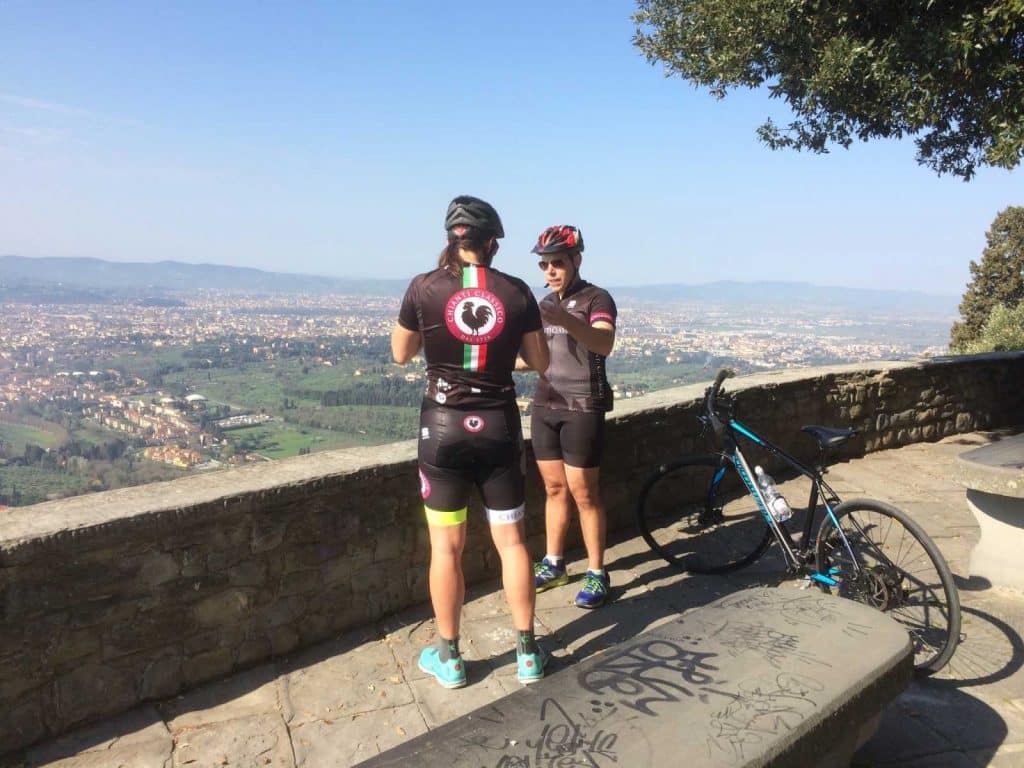 3) Size Matters
A private bike tour experience in Tuscany can be done in a group where you can meet other travelers or it can be an adventure tailored to you and just you. Many tour agencies love to boast "small groups" are available and that their guides are dedicated to your well being, but how many of those promises translate into actual services? Be sure to look for an agency that listens to your requests and knows how to produce results.
---
There is a big difference between the exploited term of "small group tour" where many mean up to 15/20 persons and our small group concept, which is 2 to 7 persons, allowing us to offer a super-attentive service. Elena from Bike Florence & Tuscany
---
Private and customized tours mean that the number of participants is contained, guaranteeing a truly attentive service for all your special requests. A small group means an experience that will turn into an unforgettable adventure.
4) Flexible Programming
Not all bikers are made the same. There are those who are happy to make the most of the Slow Travel method, stopping for photos, meeting the locals, admiring the small towns and finding the best gelato along the way. And of course, there are those who have years of experience under their belt and don't mind pushing 30 to 40 miles. To the contrary, that's what they live for!
---
Private & custom bike tours are for the avid cyclist who doesn't have an adventure buddy as much as it is for a family traveling with children.
---
Flexible programming also means that parents looking to provide fun activities for the kids will find an itinerary that accommodates their sometimes changing needs. Choose guides who know the area, capable of keeping their attention with great stories, provide a support van filled with fresh water and snacks AND have intimate knowledge of the best gelato stops along the way.
5) It's Fun!
Without a doubt, your final objective is to have fun – and a well constructed private bike tour in Tuscany will do just that. When you work with professionals, who know the trails, the towns and the best places to visit you can't help but enjoy your travels into Tuscany. And you don't need to take our word for it – just look at the comments that guests leave behind:
---
I wanted to thank you again for the very memorable ride we did in the Chianti region. It was by far more than I expected: the history lesson, the path chosen, the small villages, the Chianti tasting. I especially appreciated your attention to detail and certainly patience with me taking so many pictures… August 8 – Bike Florence & Tuscany Chianti Tour
---
Remember it is all about having fun and enjoy the splendor of Tuscany,  which will both customize your private bike tour in Tuscany but also has a long list of satisfied customers!