And one piece of advice for your vacation in Italy – biking in Tuscany as a family! There you go, 7 answers to your most popular questions
There are many things that a family can do together while vacationing: biking in Tuscany, cooking in Siena, paper making in Florence, hiking in Pisa, treasure hunts in Fiesole and stepping back in time with the archedromo in Chianti.  Parents planning to vacation in Tuscany are always looking for creative and fun solutions for the eternal dilemma: how to combine the adult vacation bucket list with happy kids.
We believe that biking in Tuscany is the great way to spend good time together.
Ages, location, skill sets, and of course, natural inclination are determining factors in choosing an activity that will work in your itinerary – and any parent will tell you the difficulty they have finding activities that cover all the bases.
Below Elena & Piero – owners at Bike Florence&Tuscany – want to share with you the most popular 7 questions most travelers have while organizing a memorable & active holiday itinerary and their related 7 answers.
Biking in Tuscany as a Family is the great way to create unforgettable memories for the whole party!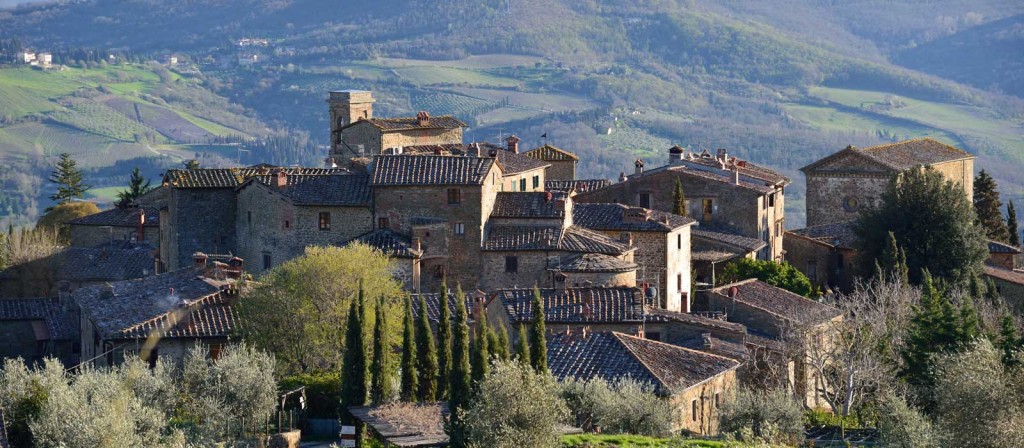 The first question always centers around age – First of 7 answers, biking in Tuscany!
The team Piero and Elena dedicate their Family Biking Tour in Tuscany to families traveling with kids below 12 years old, but older than three. They realize that this is a group that notoriously requires extra special care and dedication. With a custom made itinerary, they can create an environment that is suitable for the youngest of bikers while delivering a day packed full of adventure and activity just perfect for the pint-sized traveler.
Otherwise, families traveling with an older crowd, that means kids from 12 years and up,  will love one of the three family-friendly biking adventures listed below.  Each offers something very different scenic views, stops, and excitement.
For example, the San Gimignano Easy bike tour really is the perfect way to check off that bucket list while catering to the kids; explore the picturesque landscape of Chianti, its amazing small towns and, just like the name suggests…it's easy!
Biking in Tuscany, will it be fun for everyone? Maybe the most important of our 7 answers 
This team of experts answers the second question with logic: they are local to the area and know how to make the area sparkle without resorting to over-traveled bike trails, or boring circular paths that keep proposing the "same ol' landscape".
Each tour is accompanied by an air-conditioned support van that drops you off at a starting point and picks you up at the final destination, allowing for a vastly different panorama for the entire trip. One of the best examples is the Downhill to Florence bike tour starting over 1000 meters up in the hills outside of the Renaissance City (Florence), winding through monasteries, olive groves, and cities with real Roman and Etruscan ruins … and a gelato stop along the way!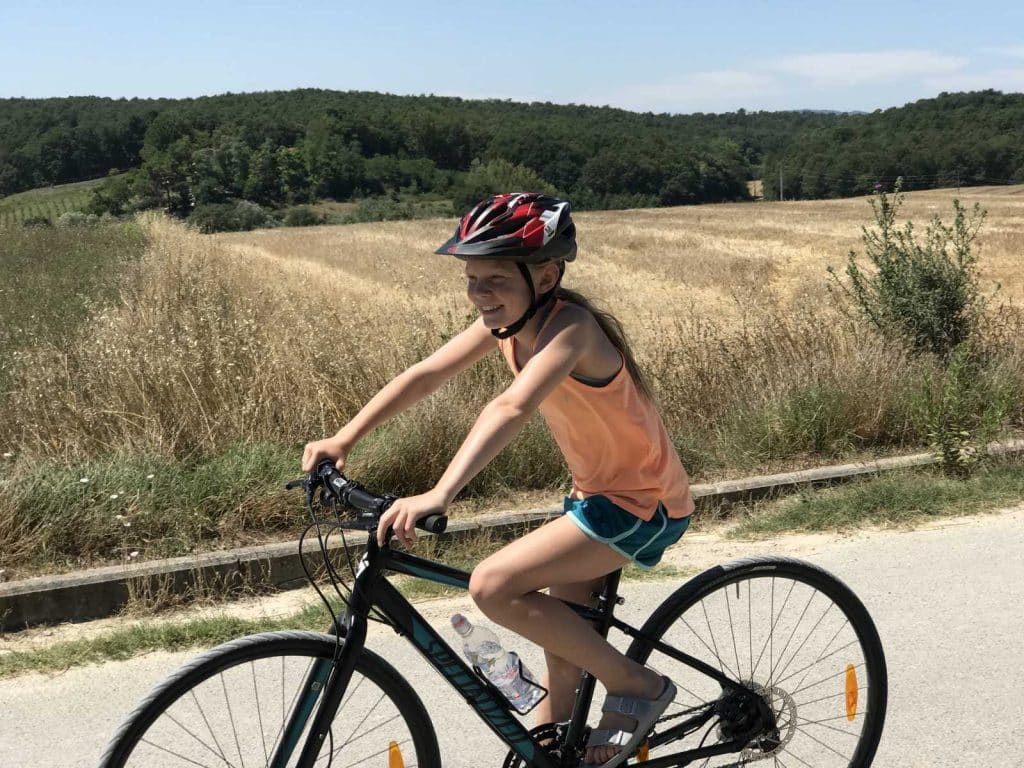 Will a bike tour add to our vacation memories? Third of our 7 answers
The third consideration normally centers around quality time. We like to think of it as a mini "team-building" activity. A biking tour in Tuscany can be a wonderful opportunity to bring the family together with a common goal. No one is left out of the fun, everyone comes together encouraging even the smallest or least likely candidate to cross the finish line. It takes a combination of knowledgeable guides, versatile itineraries and lots of enthusiasm to transform a tour into:
A Wonderful Day in Tuscany! (Tripadvisor Guest)
One size does not fit all !! We know that .. forth of your 7 answers for your best biking in Tuscany
And Piero and Elena know this to be true. This is why they answer the fourth concern, the equipment, with quality. Besides Piero's background as a technician and bike store owner, both Elena and Piero are biking enthusiasts tackling challenging terrain as a hobby…they know what a difference it makes to have a comfortable fit when biking for sport or pleasure.
They have selected to work with Specialized high-end hybrid bikes & Cicli Bianchi for assisted pedaling bicycles  (E-bikes) –  two names brand that speaks quality! –  With each tour, they personalize the heights of the bikes – so that each rider finds themselves with a perfect fit, whether tall or not so tall.
The bikes are of the highest quality and fit us perfectly–even my husband who is 6′ 7″!! (Tripadvisor Guest)

I only have one day in Tuscany !? We are here to help – 7 answers to all your needs!
The 5th point is not as much a question as it is a plea for help. Most travelers face limited time while on vacation, it just makes sense that you are going to want to maximize your time without sacrificing the youngest members of the group with yet another "boring" museum. Parents continuously struggle with combining their desires with the well-being and enjoyment of their offspring. And that really is the beauty of Tuscany and Chianti, it is an outdoor museum! With competent guides who know both the lay of the land as well as the culture, history and fun tidbits of information, even the teenagers will fall in love with … yet another small town. Especially when there is gelato at the end!
The San Gimignano to Siena is the perfect example of mixing the amazing landscape, awe-inspiring tower towns and a large dose of history along the way.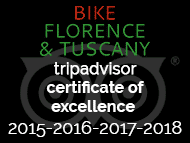 Most itinerary planners struggle with the question 
Is this really the best tour for me? Though no one can know for sure, it is comforting to know that Bike Florence & Tuscany consistently receives the award for excellence from TripAdvisor in Tuscany: of 358 reviews, over 96% gave excellent ratings and a 5 out of 5 on Facebook reviews. (Looking forward to adding 2019 to the logo!)
But even more than that, when you speak to Elena while planning your tour she will let you know if this tour is really for you by helping you customize the itinerary and expectations so that your family group of all ages finds themselves on a pleasantly memorable tour – the highlight of your vacation.
Come rain or shine, will the show go on? Good question it's one of our 7 answers for you!
A very valid question, what does happen if it rains or it shines so much that the temps are high?
The biking section of most tours lasts approximately an hour and a half and is just part of the fun-filled full day. There is so much that happens on these tours – that a little bit of Tuscan rain won't interfere with the essence of the tour. These itineraries are loaded with stops at small towns, wine & gelato tastings, and great scenery – even in the rain 😉
With the assistance of an air-conditioned support van, even in the remote case of inclement weather, tours will go on. For some it's not the liquid sunshine that gets them down, it is the high temps. Whereas summer can be pretty hot in the cities, once you move to the countryside with those cooler morning temps – you will be happy that you escaped downtown!
One last thing about biking on vacation…
In conclusion, the one piece of advice that Piero and Elena have for parents who are planning their itinerary for the holidays with the kids: don't wait until the last minute to make plans. Prime months fill up fast.  So many times parents wait to make reservations until they are already in Tuscany in the summer months – and they lose the opportunity for a truly "once in a lifetime" adventure with the entire family.
Don't hesitate to reach out and ask Bike Florence and Tuscany any questions, and do it today. Elena & Piero, thanks to their long experience on the ground and infinite passion will be happy to give you even more than just 7 answers to satisfy all your biking needs in Tuscany as a family.
Need more information, read our Family Biking Tours blog post.