San Gimignano hilltop town in Tuscany made easy by bike?
A Travel Writer in Tuscany – DonnainTuscany
"What is the best way to stay "off the beaten" track, see the small towns, the landscape do some wine tasting, leisurely biking thru Chianti with The San Gimignano hilltop town made easy?"

It is a tall order. I really should know. It is a question I have been searching to answer for over 20 years. My career passion will often have me hunting down small towns in Tuscany, discovering routes that have lovely surprises at each turn, and, when at all possible, exploring the flavors of the areas.
Relax? Not in the job description. To do all this one needs to study, plan, program, investigate, and drive. And that is not (always) relaxing.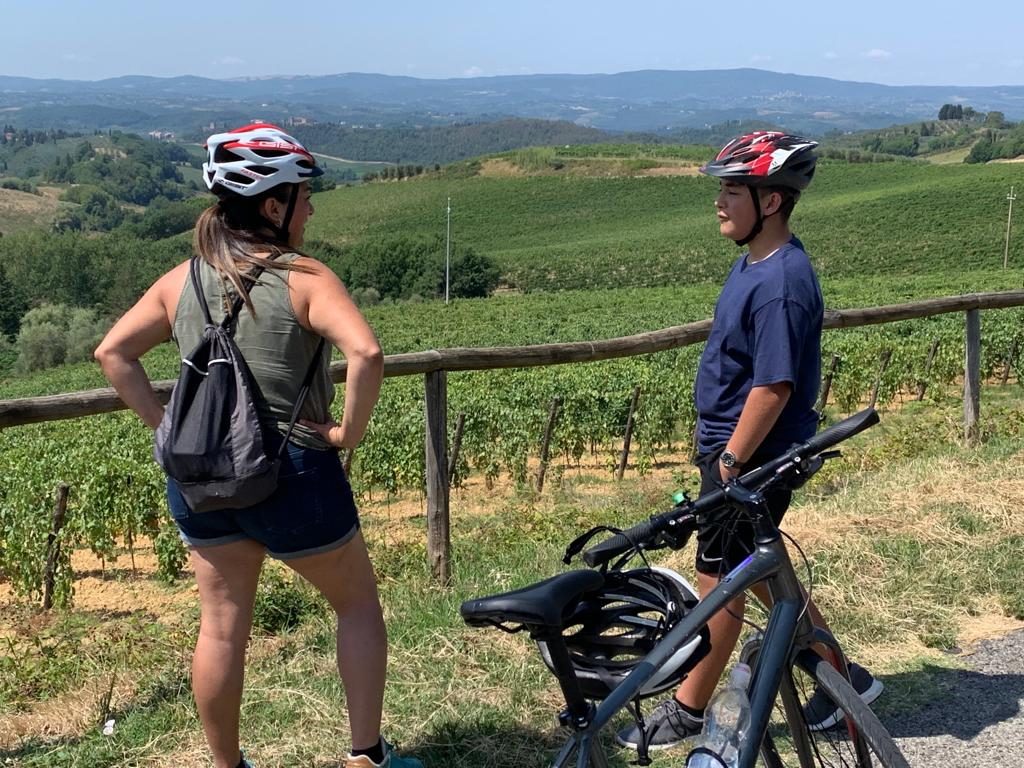 They Promised to Make San Gimignano hilltop town in Tuscany easy!
I have known Piero and Elena from Bike Florence & Tuscany for over 5 years, and I know their style and their work ethic – refreshingly authentic and precise. So, when they invited me to join them on the brand new itinerary, San Gimignano Easy I was bewildered. My experience told me there is nothing easy about biking towards the hilltop town of San Gimignano in Tuscany. But, I will never underestimate the determination of these two experienced bike guides, and I accepted the challenge: show me how I can do all of the above and find it relaxing!
There were a few extra challenges to the day they were planning, first, they knew, that I knew Chianti – so, they were promising me an itinerary which would tantalize the adventurer in me. Second, we were talking about summer: warm temps, lots of sunshine and wanting to keep it cool.
San Gimignano, the hilltop Town in Tuscany
Small hilltop towns in Tuscany abound – and from a distance, are particularly photo-worthy: walled-in stone towers, surrounded by vineyards, and olive groves. Yet up close, many are not as enticing. This biking duo has selected two towns in Chianti, both loaded with personality that make them icons among tourists. Yet, even with these two show stoppers, the real secret ingredient of the tour is the space in between point A and B – packed full of panoramic points where you can truly appreciate the overall stunning imagery that makes up the Tuscany landscapes.
The League of Chianti
Our morning began with a stroll through one of the three towns to make up the heart of the area known as Chianti Classico. At this hour of the day, the town was refreshing empty of tourists. Elena encouraged us to explore on our own for a bit – it is totally possible to lose yourself wandering narrow, cobblestone streets, visiting the church and the main square with the castle.
She met us a little while later at a traditional wine shop that offered a wine tasting in the vaulted tunnels around the town: three delicious glasses of wine (or homemade gelato, depending on your preference). We sipped a white wine particular to our final destination, a crisp, refreshing Vernaccia and then two variations of a local wine – all of this accompanied by just a few "stuzzichini": cheese, olive oil, and local salumi. And the kids in the group: chocolate, strawberry and amarena gelato.
This is how I like to start my bike tour – with the delicious specialties of Chianti.
Downhill into the Beauty of Chianti
The bikes were set up and waiting for us after our wine tasting, in a memorial square.  There was just enough free space for us to safely do a trial run and feel comfortable with the high-end Bianchi bikes. As she explained how the brakes worked, she also took special care that everyone had their helmet on correctly, a bottle of fresh-water and their seats were at the correct height.
I had been assured repeatedly, that this itinerary was easy, relaxing, and ideal for all ages which would explain the group of 11 & 13-year-olds accompanying their parents … adults obviously looking for a way to enjoy the landscape, small towns and wine without sacrificing family time.
And as Elena likes to say "Ready to go? Andiamo!!"
And we were off.
Our Bike Ride towards the hilltop San Gimignano…made easy!
Circling around the small Tuscan town, we quickly reached the countryside, and once outside the city borders, I noted with pleasure – traffic was minimal … even on a bright sunny day when droves of tourists should have been poking around looking for their next stop. We started our easy descent into Chianti landscape, effortlessly pedaling in the shade of the characteristic low laying forests, and inhaling the rich perfume of "terroir", the Chianti soil responsible for the delicious wines we had savored just a little bit ago.
It is true, I knew this area. But as you glide along the lane on a bicycle, you realize you know this area at about 60-70 km per hour from a car, with the radio on, the windows closed and maybe even chitty-chatting with a passenger. In those conditions, how well can you really know this land?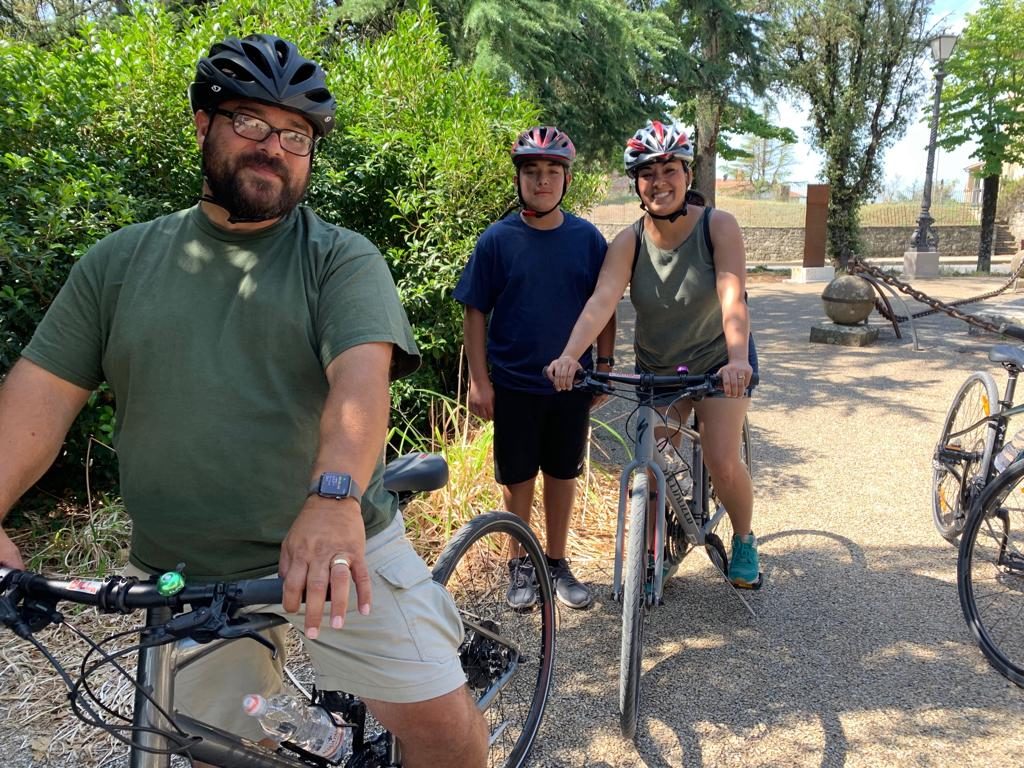 Around the Next Turn
Conclusion: Not like you would on a bike, with no barriers and no distractions. Here, pedaling, you are one with the countryside that surrounds you 360°. You can feel the patches of sunlight as it filters through the trees. You can smell the land that produces porcini mushrooms, truffles, honey, olive oil, and Chianti Riserva. You can hear the cicadas as they call out their morning greetings.
That special moment came at noon while biking the quiet country lane, the bells tolling out the hour could be heard from more than one direction.  I truly felt as if I had been transported to another time.
And you haven't even begun to break a sweat when Elena pulls over to offer your first photo opportunity.
Was it really easy? Absolutely. There were no hidden surprises. Was it really panoramic? Each gentle curve in the road opened up a new visual. A cypress-lined driveway. An isolated tower on a faraway hill. The backside of a parish church from the 1100s. And occasionally, a glimpse of our final destination, San Gimignano.
I was amazed at how many times I looked up, or turned my head to find a detail in the panorama that had escaped me before. The mountains and hills on the horizon. The various olive tree shapes. The grapes just starting to turn color. A Tuscan-styled farmhouse or a green vegetable garden with yellow zucchini flowers, red tomatoes, and fresh plums, peaches, and apricots.
San Gimignano Easy bike tour, my new favorite answer
Did we bike all the way up to San Gimignano? No, Elena and Piero loaded us up in the air-conditioned support van and dropped us off fresh and eager at the principal gateway to the city, just in time for lunch. Armed with a map and some pretty good gelato suggestions, we were ready to visit this amazing small town. And with two and a half hours to do it, we were feeling pretty relaxed.
San Gimignano hilltop town of Tuscany made easy by bike : did they succeed with the challenge?
Absolutely. There is no doubt that they put together the way to the hilltop town of San Gimignano  made easy!

One of the many stops for pictures | bikeinflorence.com