Sunflower Tour in Tuscany?
I Never get tired of roaming the Tuscan landscape on an unofficial "sunflower tour" and this year is already showing to be on a spectacular start.
---
written by Donna Denise Scharnagl, living in Tuscany for a long, long time
It is nearly impossible to pass a ceramic store, a postcard stand or a line up of calendars in Florence or Siena and not find a wide range of products covered in sunflowers. The imagery has become a natural synonym for Tuscany, infusing the landscape with striking yellow blossoms that, while on tour of the region, beckon you to stop and take their photos.
As you can see in the shot below, some may even strike a pose! 🙂
The tricky part about finding sunflowers fields in Tuscany is waiting for the first green leaves to push through the soil. Since this is a rotation crop, you will find as you roam about the region that the location of the fields vary from year to year. Though someone might have told you about an "incredible" field they saw last year right underneath the towers of San Gimignano, this year that field will be populated with grain.
Dreaming to finding Sunflowers on tour while Traveling Tuscany? Here are a few helpful suggestions of places to look up on the map. These areas will have a good chance of providing fields of sunflower to view without having to make too many detours … though remember, detours can sometimes turn out to be the best thing that happens to you on your travels. ???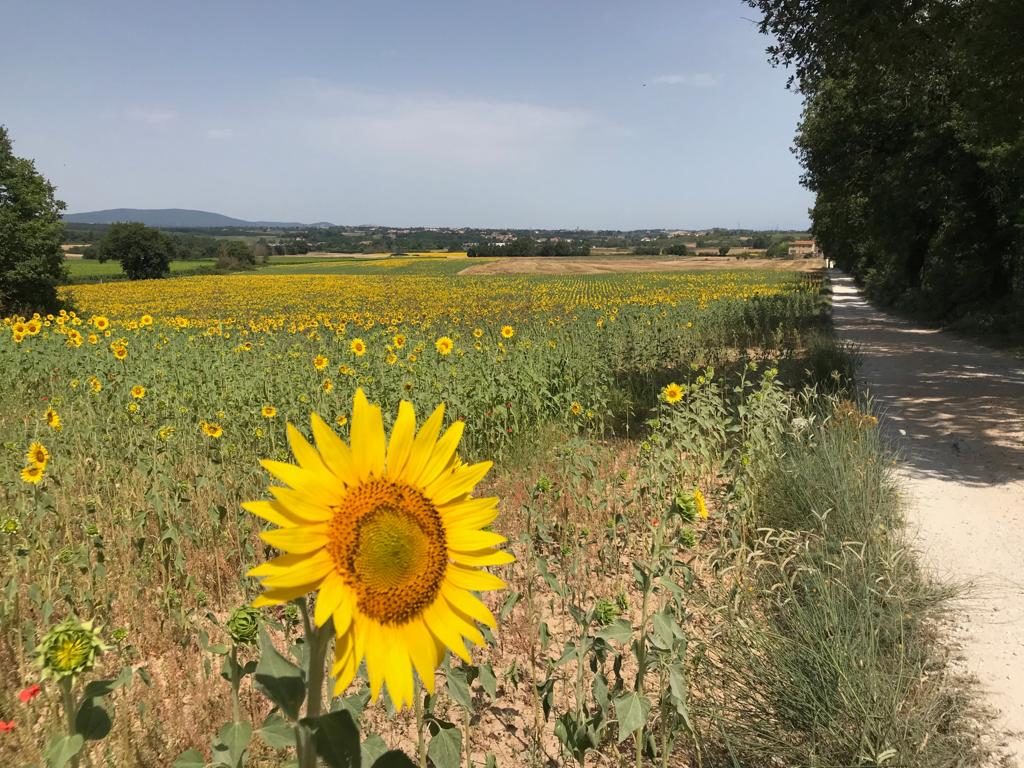 Sunflower tour in Tuscany : Mugello
A truly unexpected treasure trove of sunflower fields to tour. I found this totally by accident, it was one of those unplanned detours mentioned above. Located northeast of Florence, close enough to be a lovely day trip, the unsuspecting hills of Mugello will provide you with a fantastic opportunity to view large fields of these colorful blossoms.
Sunflower tour in Tuscany : off the Main Highway
I know, isn't that great??!!
Traveling into Tuscany from Rome or over to Pisa from Florence you are bound to see fields of sunflowers. There are several areas close to Valdichiana (which you might recognize for its outlet shopping). Added plus: I have found these to be reoccurring every year. Another area, which seems to be a constant, is close to the exits Lavoria and Vicarello on the FI-PI-LI highway heading towards Pisa.
Sunflower tour in Tuscany : Casentino
Not everyone makes it a point to look up this amazing little valley – but I can assure you that you will be amazed by the photo opportunities: the castles, the pieve churches, and the sunflower fields. Located between Florence and Arezzo, this area makes a great day trip and if you catch the valley on a good day, you can stop and take a lovely photo of the Castle of Poppi with the sunflowers in the forefront, just like this amazing shot by the professional photographer Alessandro Ferrini.
Photo credits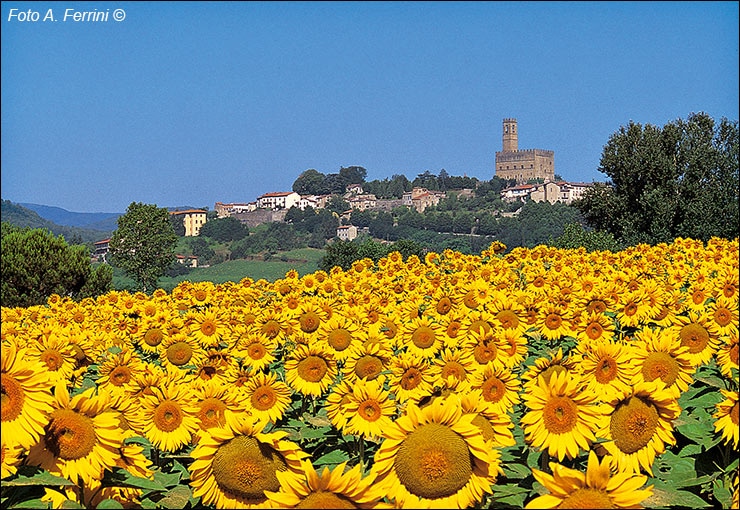 Sunflower tour in Tuscany : Favorite Sunflower Field
My favorite location can't be found in a car. It is in the heart of Chianti.
Biking among sunflowers fields in the hills of Chianti? YES!
Believe it or not, even though this area is well known for its vineyards and delicious wine productions, you will also find several sunflower fields populating the hillsides. Without a doubt, Elena and Piero will assure you that the best way to see these fields, take fabulous photos and bring home sweet memories is by following them on one of their bike tours.
They have blazed paths through the famous Tuscan "white roads" (strade bianche) which are hard-packed dirt roads made with white gravel. These paths will lead you right into the middle of the yellow flowers! It is just a great added plus that they also include small medieval towns, wine tastings and a visit to places like Castellina in Chianti, San Gimignano, or Siena.